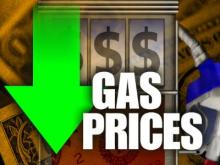 Comanche County in southwest Oklahoma reached an average less than $3 a gallon over the weekend—the lowest price in the state as gasoline prices continue falling nationwide.
The American Automobile Association reported Oklahoma's average is $3.29 while the average in the county where Fort Sill and Lawton are located has an average of $2.99 per gallon. Lawton's average is down to $3.01, four cents lower than a week ago and 19 cents below the price from a month earlier.
However, GasBuddy reported gasoline prices as low  as $2.85 per gallon at five different sites in Norman. It also reported that some stations in Lawton were down to $2.89 per gallon.
Oklahoma's average of $3.29 is below the $3.37 from a week earlier and $3.55 recorded a month ago according to AAA. The state average a year ago was $2.87.
The highest average in the state is $3.74 in Coal County. Tulsa's average as of Sunday was $3.18, 12 cents lower than a week earlier. A month ago, Tulsa had an average of $3.45 per gallon.
Oklahoma City's average is $3.28, a price that is 9 cents lower than a week earlier and 30 cents cheaper than a month ago.
Oklahoma's $3.29 average compares to $3.7 in Kansas, $3.68 in Colorado, $3.57 in New Mexico, $3.15 in Texas, $3.16 in Arkansas and $3.30 in Missouri.
AAA reported that although gasoline demand has increased slightly, lower oil prices have led to falling pump prices. If gasoline demand begins to subside, as it typically does post-Labor Day, pump prices will likely continue to decrease.
Since last Thursday, these 10 states have seen the largest decreases in their averages: Connecticut (−15 cents), Maryland (−15 cents), Delaware (−15 cents), New Hampshire (−14 cents), Vermont (−14 cents), Texas (−13 cents), Maine (−13 cents), Massachusetts (−13 cents), New Jersey (−13 cents) and New York (−12 cents).
Source: AAA