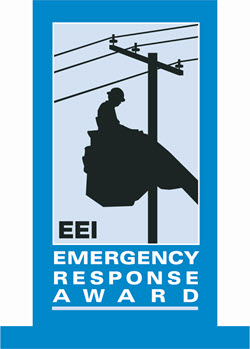 The response of OG&E crews when tornadoes struck Norman and Shawnee this spring resulted in national recognition for the company crews from the Edison Electric Institute.
The EEI awarded the Oklahoma Gas and Electric Company Emergency Response Awards which recognize recovery and assistance efforts of electric companies following service disruptions caused by extreme weather or other natural events.   
"I am proud of our team's great work in restoring power following these significant weather events and appreciate EEI's recognition," said Sean Trauschke, OGE Energy Corp. Chairman, President and CEO.
"OG&E energizes life for the communities we serve, and we help our neighbors when we can. We appreciate the communities we serve each day for their support for our hard-working employees."  
In February, severe storms moved through OG&E's service area with significant wind damage in Norman, Shawnee, and portions of the Oklahoma City metro. More than 2,500 personnel restored service to homes and businesses following repairs to the grid, including replacing downed power lines, more than 350 broken power poles and other equipment attached to poles.     
In April, nearly 2,800 OG&E restoration personnel worked around the clock to energize customers across the service area, primarily in Shawnee, following extensive damage to the grid. At peak, there were 23,000 outages. Crews identified more than 600 broken power poles, 110 damaged transmission structures, cross arms and other equipment attached to poles.
The team had brought in additional crews to support extensive restoration efforts until every customer's power was back up and running. Thanks to the hard work of OG&E crews, power was restored to 70% of customers within 72 hours, and to all customers in less than a week.  
"Ensuring the safety of our customers, communities, and crews is our industry's top priority. Safety is especially critical during severe storms and extreme weather events, such as hurricanes, tornadoes, and winter storms," said EEI President and CEO Tom Kuhn.
"I commend OG&E's commitment to restoring service for its customers safely and efficiently under challenging conditions following the devastating tornadoes in both Norman and Shawnee. OG&E and its storm response team are extremely deserving of this national recognition, and I am honored to present them with this well-earned recovery award."  
The winners were chosen by a panel of judges following an international nomination process, and the awards were presented during EEI's summer Board of Directors and CEO meeting held earlier this week in conjunction with EEI 2023. 
Source: OGE release