This week's death of Gary Ridley, the former Oklahoma Department of Transportation Director produced statements of condolences from Oklahoma leaders.
Ridley worked for ODOT for 48 years and was appointed secretary of transportation in 2009 by then-Governor Brad Henry. Governor Mary Fallin reappointed him to the post after she took office in 2011.
At the time of his retirement a few years later, Gov. Fallin said his "name is synonymous with roads and bridges, in Oklahoma and across the country."
She praised him for his efforts to reduce the number of bad bridges in the state and called him "among my trusted advisers."
Ridley's ODOT service began in 1965, when he joined the department as an equipment operator. He moved up to maintenance superintendent at Kingfisher in 1970 and traffic superintendent at Perry in 1979. In 1983, he became field maintenance manager at Perry, and then advanced to Division Five maintenance engineer at Clinton in 1986. He became division engineer at Division Five in Clinton in 1995. He was named assistant director for operations in 2001 before becoming ODOT director later that year.
Gov. Kevin Stitt issued a statement on Thursday.
"Oklahoma is grateful for and a better place because of Gary Ridley's lifetime dedication to improving transportation across our great state and this nation. Gary's leadership and development foresight has helped pave the way for our state's robust infrastructure, and will leave a legacy for future generations."
U.S. Sen. Jim Inhofe responded with condolences.
"There is no one more well-respected and loved in Oklahoma than Gary Ridley and Kay and I were saddened by the news of his passing. Gary and I became close quickly—we practically started working for Oklahoma on the same day. Gary served his state and his nation faithfully, always putting others before himself. So many of the Oklahoma transportation victories we secured over the years are due to Gary's hard work and deep understanding of how to make roads and bridges safer."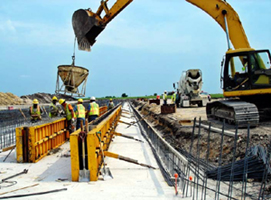 Ridley served as ODOT's director from August 2001 to April 2013. He also was director of the Oklahoma Turnpike Authority from October 2009 to April 2013.
After the Webbers Falls Interstate 40 bridge disaster in the summer of 2002, Ridley led ODOT's effort to rebuild the bridge in record time. He also worked with the state Legislature when it passed several landmark pieces of legislation to improve transportation funding.
"It is with sadness that I and all of Oklahoma mourn the loss of such a selfless Oklahoman, Gary Ridley," said Congressman Frank Lucas in a statement Thursday.
"From working with Gary on the major crosstown Expressway project in Oklahoma City when I was first elected to Congress to the countless projects all across the Third District of Oklahoma, Gray Ridley was a shining example of a true public servant who cared about the quality of his work and the positive impact it would have on our transportation system, and the people of our great state and country."
The state transportation department issued a statement.
" His passing late Wednesday is felt across all Oklahoma. Secretary Ridley's long tenure and lifetime of dedicated service to transportation in Oklahoma and across this great Nation is legendary and our transportation agencies are far better and our transportation systems are far improved and safer for his unwavering focus and leadership. He was an incredible person, mentor and, most importantly, a friend to us all."
Rep. Tom Cole responded with a statement too.
" He was not only a superb public servant but a good personal friend," said Cole who served in the legislature in the 1980s and first met Ridley.
"Gary was exceptionally able and professional. He was bipartisan in his style and incorruptible as a person and a public official. Thanks to him and the standards he set for his department, Oklahoma's roads and highways are safer and better located and maintained than at any time in our state's history. And the safety measures he pioneered and instituted have saved the lives of countless Oklahomans."