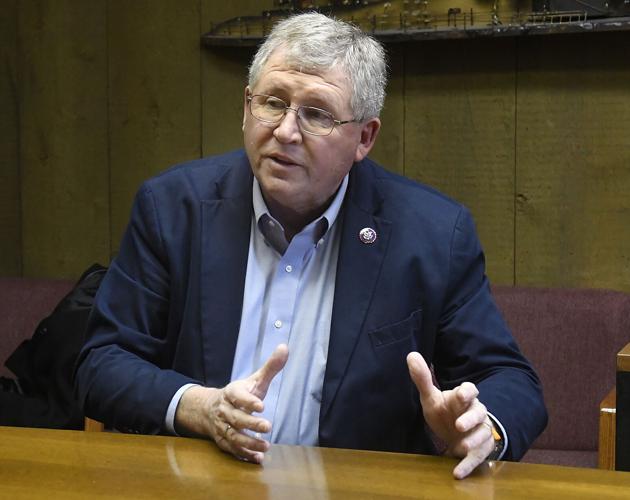 Oklahoma Congressman Frank Lucas wants to make sure farmers don't fall under the growing climate-control grasp of the U.S. Securities and Exchange Commission. He says the latest SEC proposal is another example of an "an encroaching and overreaching Biden Administration."
Lucas introduced the Protest Farmers from the SEC Act in light of the SEC's proposal to require an issuer of securities to disclose greenhouse gas emissions (GHG) from upstream and downstream activities in the issuer's value chain arising from farms and ranches.
"America's farmers and ranchers work day in and day out only to struggle with supply chain disruptions, skyrocketing input costs, and burdensome regulations imposed by the irresponsible, nonsensical actions of the Biden Administration," said Rep. Lucas in introducing his act.
"While federal securities laws already require publicly traded companies to disclose material risks to investors, the SEC's ill-advised climate disclosure rule undermines the materiality standard for environmental policy purposes. The proposed climate rule is so unwieldy and convoluted that publicly traded companies will be forced to require small, independent, family farms to report on-farm data regarding individual operations and day-to-day activities."
The western Oklahoma Representative contends the SEC would be granted "unprecedented" jurisdiction over family farms and ranchers. He said it would also hinder their ability to compete in global markets and create onerous compliance requirements.
"The SEC is an independent financial regulator, whose statutory authority reflects its narrow focus on financial markets- not reconstructing America's farm economy and meddling in capital allocation," he added.
On March 21, 2022, the U.S. Securities and Exchange Commission 
proposed a rule
, "The Enhancement and Standardization of Climate-Related Disclosures for Investors" (climate disclosure rule), that would require registrants, publicly traded companies registered with the SEC, to include certain climate-related disclosures in their statements and periodic reports, including measured impacts for their entire supply chain.
Specifically, the proposed rule requires a registrant to disclose information about its direct greenhouse gas emissions (Scope 1) and indirect emissions from purchased electricity or other forms of energy (Scope 2). In addition, a registrant would be required to disclose greenhouse gas emissions from upstream and downstream activities in its value chain (Scope 3) under many – if not most – circumstances.
Specifically, the Protect Farmers from the SEC Act:
Prohibits the SEC from requiring an issuer of securities to disclose greenhouse gas emissions from upstream and downstream activities in the issuer's value chain arising from a farm
Defines the production, manufacturing, or harvesting of an agricultural product through the Agricultural Marketing Act of 1946, outlines upstream and downstream activities, and defines greenhouse gases
Removes the SEC's exemptive authority in relation to this Act
Congressman Lucas, the longest-serving Republican on the House Committee on Financial Services and former Chairman of the House Committee on Agriculture, was joined by more than 81 original cosponsors, including Representatives Jerry L. Carl (AL-01), Barry Moore (AL-02), Mike Rogers (AL-03), Rick Crawford (AR-01), Steve Womack (AR-03), Bruce Westerman (AR-04), Andy Biggs (AZ-05), Doug LaMalfa (CA-01), Tom McClintock (CA-04), Young Kim (CA-39), Ken Buck (CO-4), Doug Lamborn (CO-05), Neal Dunn (FL-02), Kat Cammack (FL-03), Michael Waltz (FL-06), Bill Posey (FL-08), Scott Franklin (FL-15), Buddy Carter (GA-01), Drew Ferguson (GA-03), Austin Scott (GA-08), Rick Allen (GA-12), Ashley Hinson (IA-01), Mariannette Miller-Meeks (IA-02), Randy Feenstra (IA-04), Russ Fulcher (ID-01), Mike Bost (IL-12), Mary Miller (IL-15), Jim Baird (IN-04), Greg Pence (IN-06), Larry Bucshon (IN-08), Tracey Mann (KS-01), Jake La Turner (KS-02), Ron Estes (KS-04), Andy Barr (KY-06), Clay Higgins (LA-03), Mike Johnson (LA-04), Julia Letlow (LA-05), Jack Bergman (MI-01), Tim Walberg (MI-07), Pete Stauber (MN-08), Sam Graves (MO-06), Michael Guest (MS-03), Greg Murphy (NC-03), Virginia Foxx (NC-05),David Rouzer (NC-07), Richard Hudson (NC-08),Ted Budd (NC-13), Kelly Armstrong (ND-AL), Mike Flood (NE-01), Yvette Herrell (NM-02), Claudia Tenney (NY-22), Chris Jacobs (NY-27), Brad Wenstrup (OH-02), Bill Johnson (OH-06), Bob Gibbs (OH-07), Mike Carey (OH-15), Markwayne Mullin (OK-02), Tom Cole (OK-04), Stephanie Bice (OK-05), Dan Meuser (PA-09),  Nancy Mace (SC-01), Joe Wilson (SC-02), Ralph Norman (SC-05), Dusty Johnson (SD-AL), Diana Harshbarger (TN-01), Chuck Fleischmann (TN-03), Louie Gohmert (TX-01), Lance Gooden (TX-05), Jake Ellzey (TX-06), Michael McCaul (TX-10), August Pfluger (TX-11), Randy Weber (TX-14), Pete Sessions (TX-17), Chris Stewart (UT-02), John Curtis (UT-03), Rob Wittman (VA-01), Bob Good (VA-05), Dan Newhouse (WA-04), David McKinley (WV-01), Tom Tiffany (WI-07), Liz Cheney (WY-AL).
The introduction of the legislation follows numerous actions by Congressman Frank Lucas and House Republicans calling on the Biden Administration and the U.S. Securities and Exchange Commission to leave setting environmental policy to Congress- not financial regulators.
On June 13, 2022, Lucas joined House Republican Leader Kevin McCarthy and House Agriculture Committee Republican Leader Glenn "GT" Thompson 
sending a solutions-focused letter 
to President Joe Biden calling on the Administration to reverse overly burdensome regulations and policy barriers to U.S. agriculture production that have caused needless uncertainty for farmers, ranchers, and working families.
For bill text of Protect Farmers from the SEC Act, 
click here
.