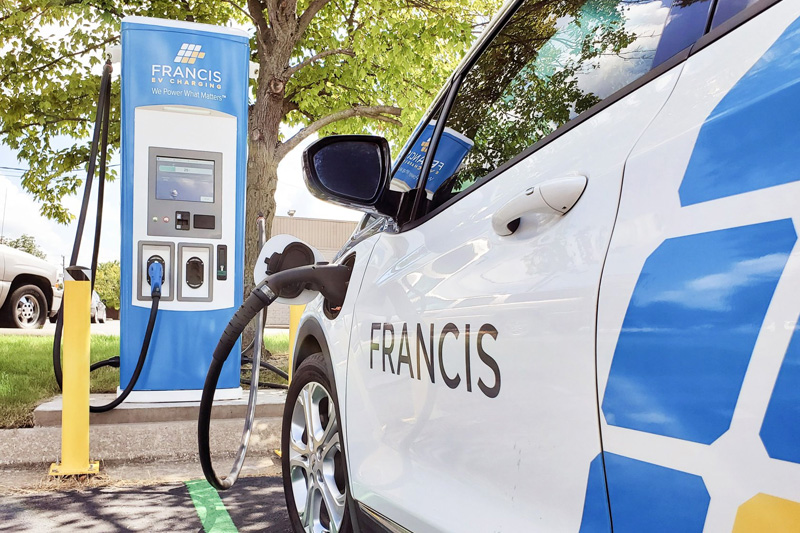 Francis Energy, LLC, the Tulsa-based owner and operator of the nation's first comprehensive statewide network of electric vehicle  fast charging infrastructure, announced  an equity investment in the company by Alliance Resource Partners, L.P., the coal and energy firm also headquartered in Tulsa.
The investment brings together two Tulsa-based American success stories to help change the way Americans drive for generations to come.
"The growth of the electric vehicle market in the United States is undeniable and the need to buildout EV charging infrastructure to support this growth is critical. We view our investment with Francis Energy as an important step in ARLP's participation in this next generation energy platform," said ARLP Chairman, President and Chief Executive Officer Joseph W. Craft III.
Under the agreement, the Francis Energy executive team will continue its day-to-day management of the company and, as a significant minority shareholder, ARLP will hold a seat on the Francis Energy board of directors.
"Having a strategic partner like Alliance Resource Partners will help Francis Energy expand our buildout of a public EV fast-charging network that reaches beyond the Midwest and into the eastern United States," said Francis Energy Founder and Chief Executive Officer David Jankowsky.
Francis Energy has built the first in the nation comprehensive statewide network of fast chargers across the state of Oklahoma with stations virtually every 50 miles. The Oklahoma network ensures rural areas, tribal lands, and underserved communities have reliable access to EV charging stations and serves as a successful model in building a public charging network across middle America.
The company won competitive state grants earlier this year in Missouri and Kansas to build new charging stations along heavily traveled interstate highways.
Francis Energy recently announced partnerships to expand its national charging network with two fuel and convenience store operators ─ Fuel Maxx, in the Houston metro area, and Wally's, at a new charging center located outside St. Louis. Francis is currently expanding its fast-charging network into 35 states.
It's not the only company that Alliance Resources has recently made an investment. It also agreed to an equity investment in Infinitum Electric, Inc., a Texas-based startup developer and manufacturer of electric motors featuring printed circuit board stators which have the potential to result in motors that are smaller, lighter, quieter, more efficient and capable of operating at a fraction of the carbon footprint of conventional electric motors.
Source: Business Wire