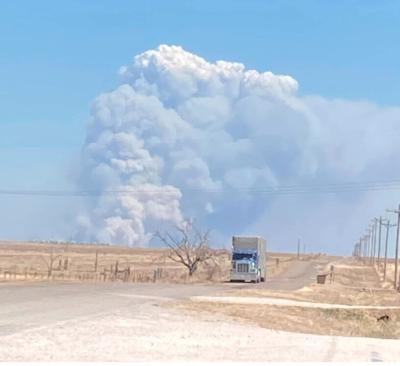 The Oklahoma Forestry Division reports a nearly week-long wildfire in the Panhandle is still burning but firefighters have about 80% of it under control. At the same time, the agency warned western Oklahoma and the Panhandle could face extreme wildfire situations on Tuesday.
The agency said the 23 Fire near Forgan had burned more than 15,000 acres but was 80% under control while the Beaver River fire which burned more than 24,000 acres was 100% under control.
Beaver County Emergency Management Director Keith D. Shadden told OK Energy Today at least one home was destroyed in the fires and several outbuildings.
In a Monday-morning Fire Situation report, the division stated that the potential for more wildfires throughout western Oklahoma will be extremely high for Tuesday.
"The combination of fuels condition and fire weather in western Oklahoma on Tuesday is ominous as a dryline penetrates into Oklahoma as one of the ingredients for significant wildfire potential while the severe weather threat ramps up in central and
eastern Oklahoma. High probability of significant fire occurrence is present with outbreak conditions probable."
Near-Term: Tuesday, April 12, will present potential for an "ominous" situation in Oklahoma – Extreme fire danger west and severe storm potential east.
"With regard to the fire danger, the conditions will be eerily similar to April 12, 2018 when the Rhea Fire, 34 Complex and Shaw Fire occurred along with several other impactful fires in Oklahoma," stated the report.
The Rhea Fire in Dewey County burned an estimated 286,000 acres.
"I'm not looking forward to tomorrow," said Shadden on Monday, explaining he spent several days last week helping fight the fires and unable to return home.
A Red Flag Warning is in effect for Tuesday across Western Oklahoma, and the fire environment will be supportive of significant fire occurrence (+5,000 Acres) with wildfire outbreak conditions probable.
The Forestry service stated that any fire that starts on Tuesday will prove challenging and because of the dry conditions will likely "transition to extreme fire behavior" soon after ignition. The agency also said the rangeland fuels in the northwest and eastern parts of the Panhandle will have the potential to spread at the rage of 3 to 5 miles per hour with "extreme fireline intensity."
The agency said Emergency Management and Law Enforcement Agencies should be prepared to facilitate evacuations.