CenterPoint Energy, Inc. continues to execute on its long-term strategic plan of becoming a pure-play regulated utility, with an improved business risk profile and strengthened balance sheet, to benefit both its customers and investors.
The company announced it has entirely exited its midstream interest with the sale of its Energy Transfer holdings, including its remaining 51 million ET common units and all its ET Series G preferred units.
Including the previously announced transactions, CenterPoint monetized its ownership in ET common units at an approximate 20% premium on an aggregated basis to the ET common unit price when the merger between ET and Enable Midstream Partners, LP was announced on February 12, 2021. The company fully exited the stake within four months of merger close. The net proceeds will be used to pay down associated debt and taxes from the transaction.
Additionally, Moody's Investors Service, Inc. recently revised the CenterPoint Energy, Inc. downgrade threshold of cash flow from operations (pre-working capital) to debt ratio to 13% from 14%. The agency noted the company's recent credit strengths, including improving business risk profile with the exit of the midstream business, its characterization of the company as diverse group of regulated utilities operating in credit supportive regulatory environments, and good economic and regulatory diversity across the company's service territories.
"We are committed to delivering on our strategic plan, which includes more than $40 billion of capital investments in our utility footprint over our 10-year financial plan, as well as 8% non-GAAP EPS growth annually through 2024 and the mid-to-high end of 6-8% annual growth of non-GAAP EPS thereafter through 2030," said President and CEO Dave Lesar.
Lesar continued, "We believe that these actions to improve our business risk profile and strengthen our balance sheet, coupled with investments in our pure-play regulated business and efficient recycling of capital, position us firmly on that path."
CenterPoint, based in Houston, serves more than 7 million metered customers in Indiana, Louisiana, Minnesota, Mississippi, Ohio and Texas. But it also serves a large part of Oklahoma.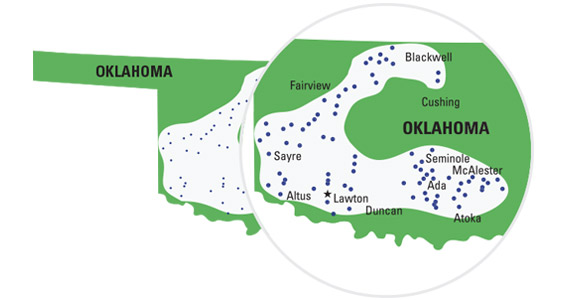 As of December 31, 2021, the company owned approximately $38 billion in assets. With approximately 9,400 employees, CenterPoint Energy and its predecessor companies have been in business for more than 150 years.