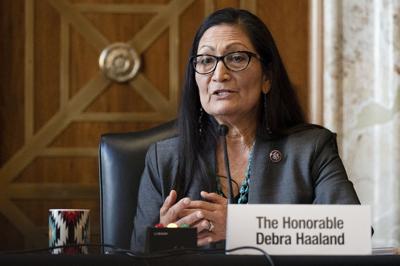 Four years after the Oklahoma legislature approved the removal of the offensive name "squaw" in describing geographical sites in the state, the Interior Department is starting to do the same thing.
Interior Secretary Deb Haaland, a native American member from New Mexico where she once was a member of the U.S. House of Representatives, ordered a task force to find replacements for geographic features with the word "squaw" in their names.
The word "squaw," which is believed to be an English version of a Mohawk word for the female genitalia is offensive to Native Americans.
Colorado Politics reported Colorado has 28 such features including four that cross state boundaries with Oklahoma and Utah.
Haaland declared the word "squaw" derogatory in November and charged the newly-created Derogatory Geographic Names Task Force with coming up with replacements.
But Oklahoma initiated such efforts back in 2018 and the move, launched by Red Rock Mayor Geary Watson was quickly and unanimously approved in the state Senate and the House.
Indian County Today reported four years ago that the Oklahoma Senate Concurrent Resolution No. 94 mandates that all geographic features in Oklahoma that carry the name "squad" are to be renamed because of the offensive nature of the word.
Mayor Watson said people in Red Rock, next to the offices of the Otoe-Missouria Tribe didn't like the name of Squaw Creek that runs through the town and wanted it renamed. He wrote the local Senator who pushed it quickly through the legislature.
As a result, Squaw Creek at Red Rock was renamed and the word "squaw" was removed from every geographic feature in the state.