When it comes to the efforts of electric utilities on energy efficiency customer incentives, they reported spending $3.6 billion in 2016.
The U.S. Energy Information Agency said it figured out to be $24 a customer on average. The findings came in the EIA's survey of electric power sales, revenue and energy efficiency.
The average reported spending per customer varied by state from zero dollars in Alaska to $128 in Massachusetts. By U.S. census region, average utility spending ranged from $11 per customer in the South to $47 per customer in the Northeast. Spending was higher in some states with high electricity prices such as Hawaii.
The survey also found that 43% of spending by utilities targeted residential customers while 49% targeted commercial customers.
Incremental savings as a result of energy efficiency spending for reporting year 2016 totaled 27.5 billion kilowatthours, or 0.7% of nationwide retail electricity sales.
Annual incremental savings also varied by state, from near 0% of electricity retail sales in Kansas and Alaska to 3% of retail sales in Massachusetts and Rhode Island. Average electricity savings by U.S. census region was the highest at 1.2% in the Northeast, and the lowest at less than 0.4% in the south.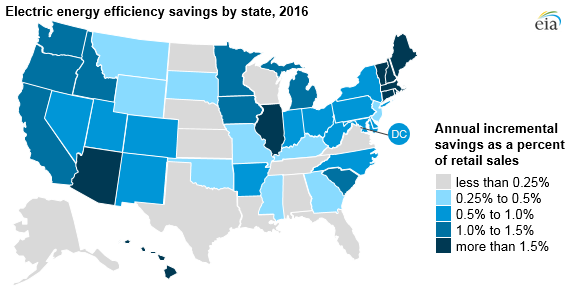 ---