The workforce will be tripled as a result of high demand for the unmanned jet-powered unmanned drones manufactured at the Kratos Defense & Security Solutions plant in Oklahoma City.
The company recently held a celebration of its 100th MQM-178 Firejet high-performance jet powered target drone aircraft produced at the Kratos Unmanned aircraft manufacturing facility in the city. On hand were members of Congress and state leaders who were told that because of growing demand for the jet drone system, the company anticipates expanding its workforce from nearly 160 to more than 500 workers.
With primary customers including the United States Air Force, Navy, and Army, as well as foreign ally militaries, the Kratos Unmanned Systems Division opened the Oklahoma City manufacturing facility in November 2018 to accommodate the existing and increasing demand for its newest line of high performance, jet-powered unmanned aerial tactical drone and target drone systems.
The Kratos Unmanned Oklahoma City aircraft manufacturing facility is fully operational with two major drone aircraft systems in rate production, plus prototype production of a third system. The Kratos Unmanned Oklahoma City aircraft manufacturing facility is home to the MQM-178 Firejet, which first rolled off the production line in Oklahoma in April 2019 and is produced in high quantities monthly/annually today, in both a target and tactical system configuration.
The XQ-58A Valkyrie, a high-performance tactical UAV capable of long-range flights at high-subsonic speeds, currently under contract with multiple Department of Defense customers, is also produced at the Kratos Oklahoma manufacturing facility. Kratos is also in prototype production of an additional, high performance tactical drone system at the Oklahoma facility.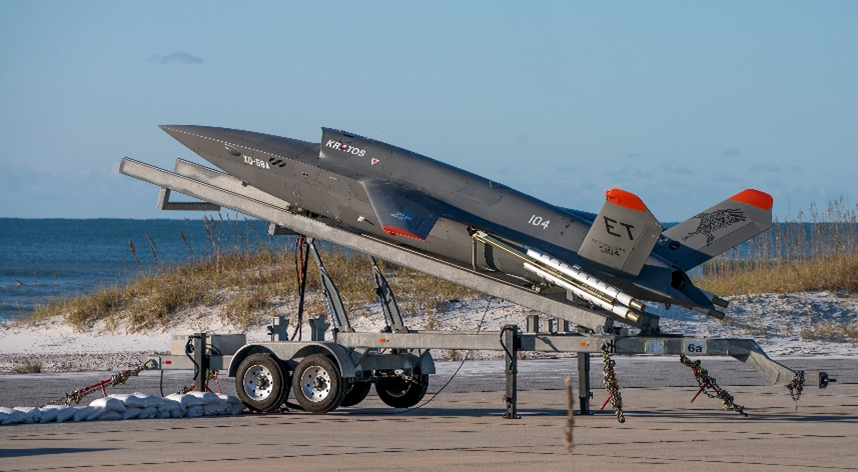 "Achieving the completion of the 100th Firejet produced here at our OKC facility marks an incredible milestone and includes several levels of significance," said Steve Fendley, President of Kratos Unmanned Systems Division.
"First, the successful growth of Kratos' aircraft production capacity from a single site in California to effectively doubling our total capacity with the OKC site. It's also an illustration of Kratos' true partnership with Oklahoma's leadership and congressional delegation, the Oklahoma Department of Commerce, the Greater OKC Chamber, and the local community to make this possible."
At the high-performance end of the low-cost or affordable jet aerial target market, Kratos' Firejet delivers unmatched fighter-like performance and versatility, representing the most lethal threats of the United States and its allies' potential adversaries. Kratos' Firejet provides the opportunity for customers to train their military personnel and to test multiple weapon systems with a single flexible and affordable high performance unmanned aerial target drone system.
The Firejet supports both surface-to-air and air-to-air engagements with a combination of internal and external mission kits including tow targets, proximity scoring, passive & active RF augmentation, and infrared (IR) augmentation.
Source: Press release