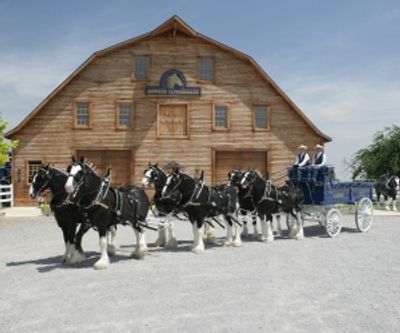 Members of Congress—those who sit on the U.S. House Ways and Means Committee will gather next week at the Express Clydesdales in Yukon.
It's not to visit with the large horses but to hold a second field hearing examining the state of the economy for American workers, farmers and families.
Committee Chairman Rep. Jason Smith of Missouri plans the hearing to begin at 8 a.m. Central Time on Tuesday, March 7.
Oklahoma congressman Kevin Hern is a member of the committee and plans to attend the hearing.
As Hern prepared for the approaching field hearing, he also voted to support the Reduce Exacerbated Inflation Negatively Impacting the Nation Act. Known better as the REIN IN Act, HR 347 requires the Office of Management and Budget and the Council of Economic Advisors to provide an inflation estimate for each Executive Order projected to cause an annual gross budgetary effect of at least $1 billion.
"Inflation continues to be the number one concern for American families, and it has largely been driven by Democrat spending both in Congress and in the White House," said Rep. Hern. "Americans elected a Republican House to provide accountability over this President, which is exactly what we're doing with the REIN IN Act. Biden cannot continue to spend American's tax dollars with the stroke of a pen."
The hearing will be available to view on a live webcast at https://waysandmeans.house.gov.  The webcast will not be available until the hearing starts.
The list of invited witnesses was not released by the committee in its announcement.