NGL Energy Partners LP announced an increase to its Fiscal 2023 Adjusted EBITDA guidance.
The Tulsa-based Partnership has increased its Adjusted EBITDA guidance for the current fiscal year from greater than $600 million to greater than $630 million. Of this amount, more than $430 million is expected to be generated from the Partnership's Water Solutions segment.
Additionally, the Partnership disclosed that it has reduced debt balances by approximately $227 million during its third fiscal quarter and has a total debt balance of $3.258 billion as of December 31, 2022.
"We are excited to update our Fiscal 2023 Adjusted EBITDA guidance to greater than $630 million as we continue to see increases in water volumes processed in the Delaware Basin as well as other cash flow positive developments. We have eagerly anticipated this growth and are pleased to see years of hard work resulting in improved performance," stated CEO Mike Krimbill. "As we increase Adjusted EBITDA and reduce indebtedness, we continue to de-lever."
In addition, NGL today announces that Brad Cooper will be promoted to Executive Vice President and Chief Financial Officer effective January 13, 2023. Mr. Cooper joined the Partnership in June 2021 as the Partnership's Senior Vice President of Administration and Risk Management. Mr. Cooper has over 20 years of experience in the energy space working for public companies with experience across upstream, midstream and downstream sectors. Most recently prior to joining the Partnership, Mr. Cooper spent 10 years with WPX Energy where he was Vice President of Finance and Treasurer. Prior to WPX Energy, he was at The Williams Companies where he held various corporate finance and risk management leadership roles.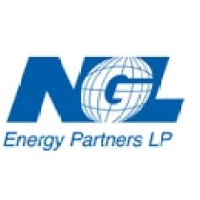 Linda Bridges has announced that she will be resigning from her position with the Partnership as Chief Financial Officer effective January 13, 2023 to pursue other interests. "Linda has been a significant contributor to the Partnership since she joined us in June 2016. Through her leadership, we are in a great position to accelerate the repayment of the 2023 Notes and reduce total leverage as we approach our fiscal year end on March 31, 2023. We sincerely thank Linda," stated Mr. Krimbill.
The expectations set forth herein are preliminary in nature and remain subject to completion of quarter-end processes and accounting procedures and are therefore subject to change.