You thought you saw the end of rate hikes by Oklahoma Gas and Electric?
Get ready. The utility has made yet another pitch for yes, another rate hike. This year.
It blames unexpected gas price increases and wants customers to share the load by paying higher rates. Maybe another $5 to $6 more a month.
Documents filed ( Cause No. PUD 2022-00057) with the Oklahoma Corporation Commission show the utility admitted it had an under-recovery of projected fuel costs this year totaling $164.8 million on top of the $424 million in under-recovery costs reported in March 2022. The company said it was necessary for a new Annual Factor Redetermination to become effective in January 2023.
"Since the October 2022 factors were implemented, an additional $22 million of under-recovery was incurred," stated the utility in a filing with the state agency.
OG&E added the Fuel Cost Adjustment factors effective October 1, 2022 "do not reflect recent changes in the gas price forecast."
"For the proposed FCA factors, total projected fuel cost have increased $69 million over the March 2022 factors. Beginning January 1, 2023, the total projected FCA costs of $1.113 billion will be recovered over the next 12 months and the under-recovery balance  of $446 million will be recovered over 21-months."
The additional cost to OGE customers? The utility explained in its filing that the re-determined Fuel Cost Adjustment would increase a typical residential customer bill from $136.09 to $143.15 for the January through May winter period.
"This average customer impact is $6.16 if calculated using the average customer usage across the entire year," continued the filing.
"The customer impact experienced by the average residential customer in January when these revised FCA factors take effect will be closer to an increase of $5.46."
This surprise request follows Corporation Commission approval in September of $30 million for an OG&E rate hike of about 1.9%. The additional cost was added to bills in July and commissioners made it permanent by their vote in September. The average residential customer's bill rose $2.07, on top of the more than $3 to pay for the fuel costs from the Winter Storm Uri in 2021.
OG&E originally asked for a more than $165 million rate hike but the request was negotiated lower upon pressure from a number of consumer groups.
The utility's latest request for more funding was critically received by the Oklahoma AARP, a consumer group that opposed OG&E's previous rate hikes.
State Director Sean Voskuhl issued a statement to OK Energy Today, stating, "OG&E continues to bring the humbug this holiday season acting like the Grinch trying to steal our Christmas."
He accused OGE of "seeking to gouge" customers with a fourth rate increase and no plan to help struggling customers, despite record profits for the utility.
"What's also troubling is OG&E withheld the total amount of under-collected costs until their $30n M rate case increase was approved in September. AARP Oklahoma is requesting a full review of OG&E's finances and its rates with a renewed call for a moratorium on all utility rate increases."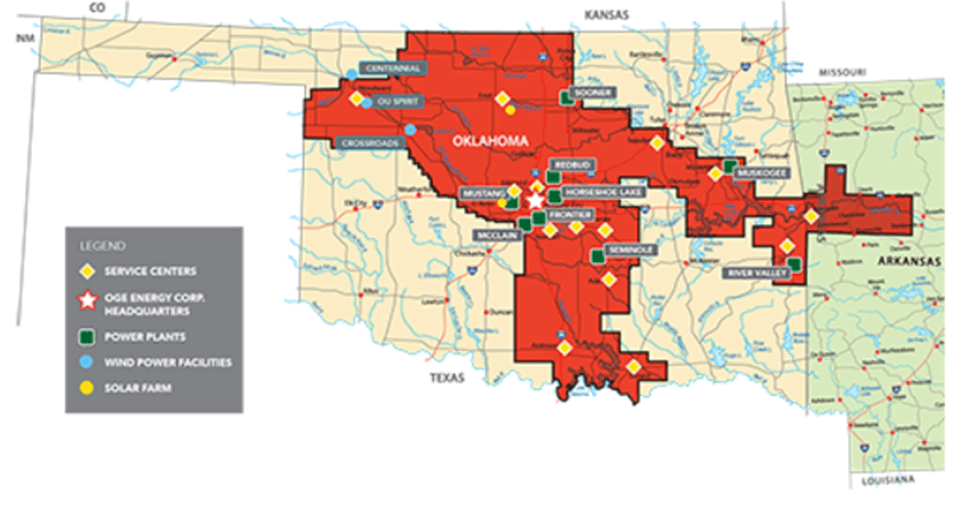 With more than 879,000 customers in 267 towns and cities in Oklahoma and western Arkansas, OG&E maintained in the filing that it continued to compare favorably against national averages. Its residential class rates averaged 30% lower than the national average in 2021 and the commercial class was 28% lower than the national average for the same year. OG&E said its industrial class averaged 30% lower than the national average in 2021.
The utility explained its fuel types included nearly 68% natural gas, more than 21% coal, 4.4% duel-fuel, 6.2% wind and 0.4% solar.
OGE's coal is mostly out of the Southern Powder River Basin in Wyoming in addition to some from a supplier in the Arkoma Basin in Eastern Oklahoma. It encountered coal supply delivery disruptions at the end of 2021 because railroads "began experiencing work force shortages that caused disruption in the number of trains that were able to deliver coal."
By adding railcars above its standard operating practice and burning more Oklahoma coal, the company said it was able to meet the summer capacity obligation and also took steps to build the winter coal inventory.
As for the company's natural gas supply, it stated in the filing that it competitively bids and procures "all its natural gas supply requirements to ensure the lowest reasonable cost for customers."
Click below to view OG&E's filing
file:///C:/Users/User/Downloads/2023%20FCA%20Factor%20Packet%20(3).pdf