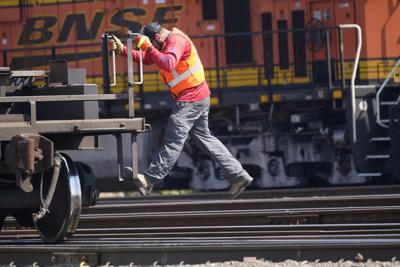 The U.S. House passed a bill Wednesday to avoid a nationwide railway strike but with a split vote from Oklahoma's Representatives.
The resolution passed on a vote of 290-137 and Reps. Tom Cole and Frank Lucas were among the 79 Republicans who supported the measure. Reps. Stephanie Bice, Markwayne Mullin and Kevin Hern opposed the measure and were joined by 126 other Republicans in the House along with 8 Democrats.
Rep. Hern issued a statement following the vote explaining that over decades in business, he successfully navigated numerous contract negotiations without the federal government's interference.
"Just last month, Biden was bragging about his mediation over a new deal; now, the White House is begging Congress to fix it. It's not Congress' job to clean up the Biden Administration's messes. A rail strike would impact every single American – no one wants it to come to that. However, these nonbinding resolutions will not get any party closer to an agreement."
Two votes were taken by the House including the House Joint Resolution 100 which was passed on the 290-137 vote. A second vote was taken on House Concurrent Joint Resolution 119 to correct the first resolution. All five Oklahoma Representatives opposed the second resolution.