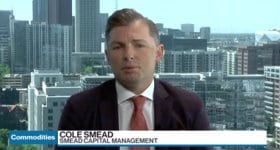 The biggest minority investor in Continental Resources says Harold Hamm's latest offer to take private the Oklahoma City energy company is still too low.
It's what Cole Smead, president of Smead Capital said after Continental announced a merger agreement with Hamm and his family.
He was quoted by Bloomberg and Seeking Alpha on Monday as indicating that Hamm's new offer of $74.28 a share was too low and should be closer to $90 a share.
He also indicated he would prefer that Devon Energy, another Oklahoma City-based oil and gas company, would make a bid to take over Continental Resources. Since a shareholder vote of the proposed merger is not required, Smead told Bloomberg he is weighting possible legal action to intervene.
 "It looks like the special committee wasn't interested in necessarily the value of the business," Smead said in a phone interview with Bloomberg.
 "They were interested in 'what could we do that might please the process for Harold' because the things that were communicated to us never took place."
Smead Capital owns 7.1 million shares or 1.97% stake in Continental Resources.
It's not the first time that Smead was critical of Hamm's attempt to take full control of Continental and make it privately-run. When Hamm made his original offer of $70 a share in June, Smead stated he felt Hamm was attempting to "steal" the company from shareholders. At the time, he said shares were worth nearly $100 each.
Source: Bloomberg and Seeking Alpha