Oklahoma City leaders are not making public comments about the city's lawsuit challenging Oklahoma Corporation Commissioners over a franchise fee decision linked to the controversial billions of dollars in bonds allowed for utilities from the 2021 Winter Storm Uri.
The office of Mayor David Holt did not respond to an inquiry by OK Energy Today and city spokeswoman Kristy Yaeger said because it is pending litigation, she could not offer any comments or make available any public information regarding the city's franchise fees.
Oklahoma City filed suit before the State Supreme Court claiming the Corporation Commission's 2-1 vote in August against requiring the utilities to collect franchise fees for hundreds of municipalities was unconstitutional.
As OK Energy Today reported earlier this week, the city also contended the decision was an "invasion of the exclusive right of electors residing in Oklahoma City to negotiate and approve franchise agreements with utilities and to receive franchise fees from utility franchisees."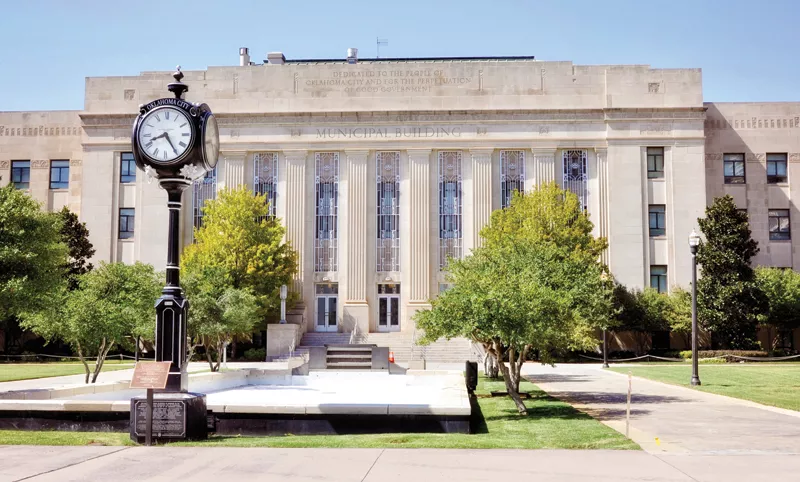 Franchise and utility fees are charged to public utilities for the use of public rights-of-way for their infrastructure, according to the city website. The franchise fees made up the second largest category in the city's General Fund and accounted for $39.7 million or 8.7% of the FY 21 General Fund operating revenue budget.
As the city budget website explained at the time, the two largest remitters of franchise fees were Oklahoma Gas & Electric with FY 21 estimated revenue of $19.7 million and Cox Communications at $5.7 million. They were also among the top 10 General Fund revenue sources and made up 5.6% of the operating budget.
Oklahoma Natural Gas was among other franchise fee remitters. ONG and Oklahoma Gas & Electric were among a handful of utilities that took advantage of the bond securitization process created in 2021 by the state legislature. Between $3 billion an $4 billion in bonds were approved for all of the utilities that used the new law.
Not all of the franchise fees collected for Oklahoma City's General Fund would be affected by the Corporation Commission decision that was made in late August…only those involving the utilities in question.
As of Wednesday of this week, the Supreme Court had not set any date for a hearing on Oklahoma City's challenge.
It will be the second constitutional challenge regarding the winter storm bonds. The new law that was rushed through and approved by the state legislature shortly after the February 2021 Winter Storm Uri, provided for final bond approval by the Supreme Court.
However, some former legislators were among those who filed constitutional challenges to the act. Eventually, the Court upheld the constitutionality of the new law.
Now the justices must decide whether the utilities also have the right to avoid collection of franchise fees for towns and cities across the state.