Whether the increased price of gasoline has left you angry, indifferent or frustrated, one thing is clear in Oklahoma…prices are climbing higher and there's nothing drivers can do about it.
The average price of gasoline in Oklahoma hit $4.64 on Monday while the national trend was at $5.01 a gallon according to the American Automobile Association.
Oklahoma's $4.64 average is 21 cents higher than a week ago and 65 cents more than the $3.99 reported a month ago. A year ago, the statewide average was only $2.75 a gallon.
Oklahoma City drivers are faced with a new average of $4.68 a gallon, 24 cents more than a week ago and 68 cents higher than a month ago. They only paid $2.70 a gallon a year ago.
In Tulsa, the average is $4.53, 20 cents more than a week ago and 53 cents higher than a month ago while a year ago, motorists in T-Town paid only $2.76 a gallon.
Lawton drivers still face the cheapest prices with an average of $4.50 a gallon. A week ago, the average was $4.29 and a month ago, it was only $3.86. A year ago, the Lawton average was $2.65.
Highest average in the state? That dubious honor belongs to Ellis County in the northwest where drivers in Shattuck pay an average of $5.13 a gallon. Coal County in the southeast is the only other county with an average higher than $5 at $5.01 per gallon.
Logan County isn't far behind. Drivers in Guthrie pay $4.97 on average. McClain County drivers are faced with a $4.92 a gallon average.
The lowest average is $4.46 in Adair County next to the Arkansas state line. Tillman County in the southwest has a $4.48 average.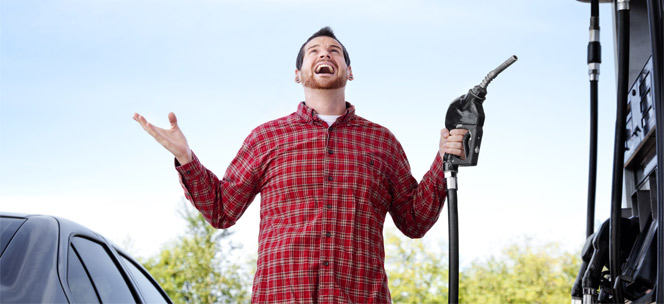 Despite the high prices, AAA reported that domestic gasoline demand remains robust as the summer driving season ramps up. As a result, the national average for a gallon of gas surged and is 15 cents more than a week ago, 58 cents more than a month ago, and $1.94 more than a year ago. Monday's national average was $5.01—an all-time high never seen since AAA began collecting pricing data in 2000.
"Based on the demand we're seeing, it seems high prices have not really deterred drivers," said Andrew Gross, AAA spokesperson. "If prices stay at or above $5, we may see people start to change their daily driving habits or lifestyle, but it hasn't happened yet."