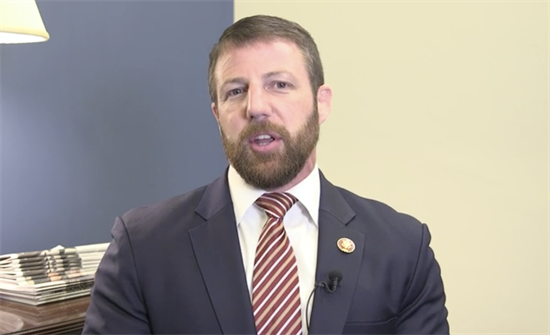 Congressman Markwayne Mullin (OK-02) penned a piece this week in the Congressional Western Caucus's new blog, "Branded."
The caucus is recognizing March as Permitting Month.
American energy independence is unobtainable without functioning pipelines. Pipelines are vital infrastructure for transporting crude oil and natural gas across the nation. They are safer than trucks, barges, and rail, all while emitting less greenhouse gas. To ensure we have a strong energy infrastructure, we must have a permitting process that works.
With each new administration comes a new standard of regulation. As we have seen with the Biden Administration, this regulation is crippling. This change in process for reviewing and approving new or expanded interstate natural gas pipelines costs the companies millions of dollars, wastes materials, and ends with thousands of jobs lost. Not to mention, local communities lose the economic security they were depending on. Years are wasted on National Environmental Policy Act reviews – with many of the delays long enough to span multiple presidential administrations. The DC bureaucracy continues to drag producers along behind them.
According to EQT Corporation, regulatory delays have already led to the cancellation of four major U.S. pipeline projects that could have served more than 25 million homes since President Biden took office. The cancellation of these four pipelines has restricted nearly 10 percent of natural gas production in the U.S.
Take the Keystone XL pipeline for example. Over 100 miles were already constructed, and billions of dollars were invested in both the U.S. and Canada. Construction would have created over 10,000 high-paying, American jobs with the hope of further economic activity along the route. Once functioning, this pipeline would have carried 830,000 barrels of oil per day.
All of this was gone with the stroke of a pen.
To provide certainty in the permitting process, I introduced the Promoting Cross-Border Energy Infrastructure Act. This legislation simplifies the construction and operation of energy facilities that cross international borders and replaces the Presidential Permit requirements before constructing an energy facility that crosses the U.S. border between Canada or Mexico. In turn, this will encourage and promote the construction of energy infrastructure across border lines with our North American neighbors. No president should have the authority to unilaterally cancel such a large project that brings good-paying jobs and economic development to our country.
Further, this act would establish transparent, reliable procedures to provide regulatory certainty and enable the United States to further expand the mutually beneficial energy relationship with Canada and Mexico. By streamlining the construction and operation of international border-crossing facilities used for the import and export of oil, natural gas, and electricity, the United States can more efficiently continue the trade of energy products with neighboring countries.
The United States, Canada, and Mexico have always enjoyed the benefits of a firmly united and highly productive North American oil, gas, and electricity trade market. The value of energy traded between the United States and our North American neighbors exceeded $140 billion in 2015, with $100 billion in U.S. energy imports and over $40 billion in exports.
But the Biden Administration continues to make this harder.
Just last month, the Federal Energy Regulatory Commission (FERC) issued new guidance that will further hurt the permitting of new interstate natural gas and liquified natural gas infrastructure. This increase in unnecessary, bureaucratic red tape will only stifle the industry even further. Even though FERC recently paused this implementation for the time being, it still leaves producers with uncertainty, delays, and dead ends. Exports to our allies will be limited at a time when they need it the most.
Try as he might, our President cannot ignore the benefits pipelines bring to our country. The Colonial Pipeline alone transports between 40 to 45 percent of all the gas on the East Coast. Even President Biden's Energy Secretary admitted in a press conference that "pipe is the way to go" for oil and gas transportation in the United States.
The fight for energy infrastructure is far from over. The United States was a net energy exporter in 2019. The only thing that has changed is the administration – not our country's capability to remain so. The federal government is hurting rural America and the entire country is watching the consequences unfold. Now, it's time for our career politicians in Washington to realize this too.