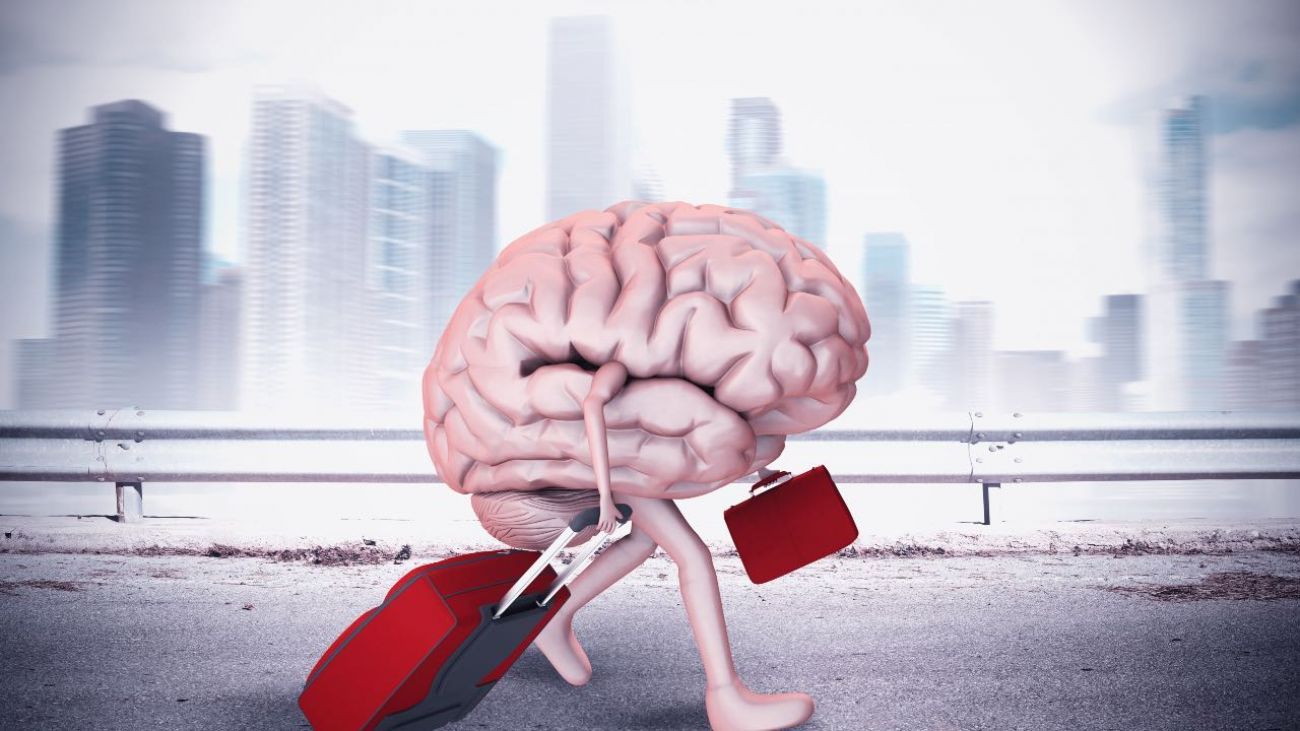 A new federal report says that for the first time in history, in 2020-2021, more people died in Oklahoma than were born and college grads are staying here.
The Oklahoma City Branch of the Federal Reserve of Kansas City also showed the state's "brain-drain" might have ended as college graduates stopped exiting the state.
Entitled, "Oklahoma's Population During COVID: Early Deaths, New Residents and an End of the Brain Drain," the report was released by Chad Wilkerson, branch executive, vice president and economist.
"The pandemic inflicted the highest death rate in state history, across nearly all age groups," he said. "Oklahoma ranked in the top quarter of states in terms of COVID-related deaths, with deaths among people of color especially high."
The major components of Oklahoma's 2020-21 population growth reveal two standout trends. For the first time in its history, more people died in Oklahoma than were born, a pandemic reality seen in many other states.
Second, more people moved into Oklahoma from other states than any time in recent decades, reversing a recent trend of outmigration—especially of college graduates—and more than offsetting the state's decline in natural population growth. This edition of The Oklahoma Economist explores underlying data on Oklahoma deaths and migration to shed light on the people the state has lost and gained during the COVID-19 pandemic.
Oklahoma's total population grew 0.6% in 2021, the fastest rate since 2015 but slower than the rate from 2005 to 2015 (Chart 1).[1] In comparison, the total U.S. population grew just 0.2% in 2021. Population growth is affected by three things: natural population growth (births minus deaths), net international migration (from other countries), and net domestic migration (from other states). Oklahoma's net gains from international immigration have been declining slowly since 2015—similar to the nation and most other states—and this source added only about 1,500 residents to the state's population in 2021. By contrast, the other two components of Oklahoma's population growth—natural growth and domestic migration—each exhibited sharply diverging trends from just a few years ago.
Half of the 50 states, including Oklahoma, had a natural decrease in population for the year ended July 1, 2021 (the annual reference period for the U.S. Census Bureau), which means more people died than were born in those states. Oklahoma's number of births in that period was down slightly from the previous 12-month period, continuing a slow decline that began in 2016. Meanwhile, deaths in the state jumped significantly.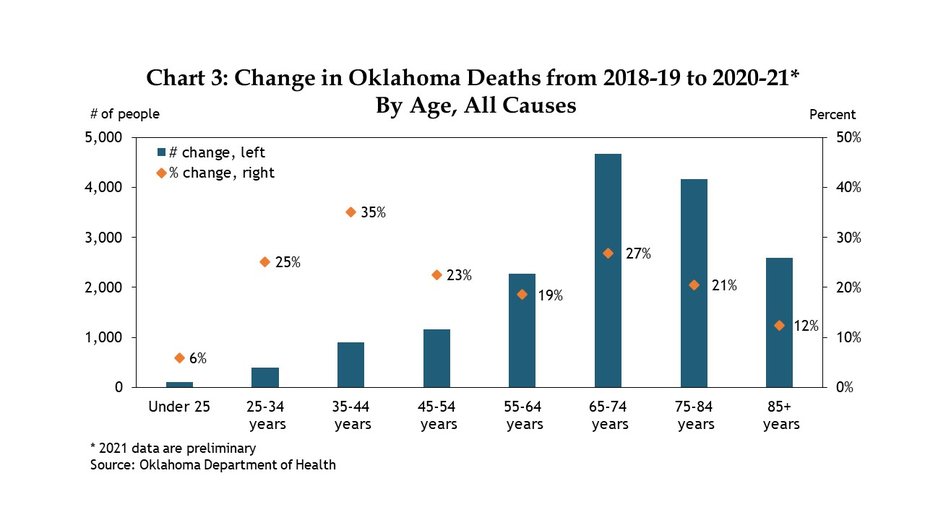 The Oklahoma State Department of Health has more up-to-date births and deaths data, including preliminary data for the entire calendar year of 2021 and full data for the past 100 years.[2] These show that Oklahoma deaths first exceeded births—but just slightly—in calendar year 2020 (Chart 2). That year 47,617 people were born in the state, fewer than in 2019, while 47,734 died—an increase of 17%, or nearly 7,000 from 2019. Then in 2021, Oklahoma births were largely unchanged from 2020, while deaths rose even further, to above 50,000.
Although Oklahoma's most recent net outmigration of residents began in 2016 and ended in 2019, the state's outmigration of college graduates began earlier—in 2013. While data on domestic migration by education level for 2021 are not yet available from the Census Bureau and are not tracked in the CCP, educational migration data through July 1, 2020—more than three months into the pandemic—can be analyzed for an early read on how the pandemic may have affected Oklahoma's brain drain.
On net, college graduates stopped moving out of Oklahoma in 2020 following seven straight years of outflow—including the biggest outflows of all in 2018 and 2019 (Chart 6). While the end of Oklahoma's brain drain in 2020 was a positive development, nearly all of the state's overall net increase in new residents from other states in 2020 was still due to those with less than a bachelor's degree.
Of this group, though, the largest net inflow was of those with some college, including associate degrees, meaning Oklahoma did have a net gain in people with some post-high-school educational experience and training in 2020.