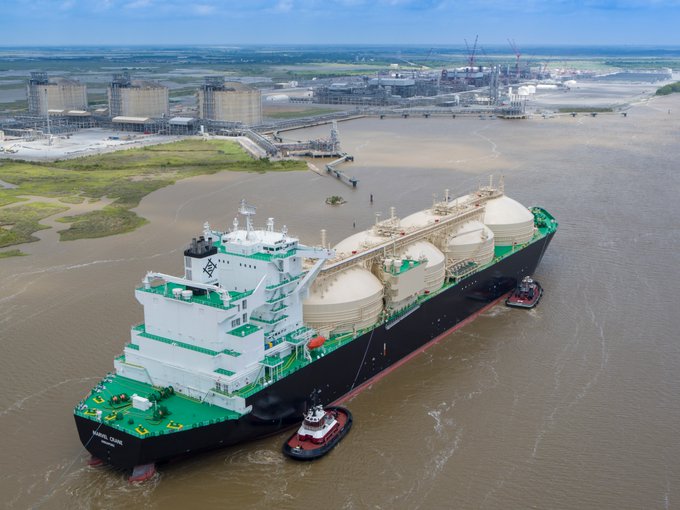 While Russian troops spread across Ukraine, Oklahoma U.S. Sens. Jim Inhofe and James Lankford joined other Republican Senators in urging the Biden administration to increase the nation's supply of LNG to help European countries.
The U.S. last year was already Europe's largest source of liquefied natural gas according to the U.S. Energy Information Administration. The nation was also the world's largest LNG exporter by capacity, largely because of development of new LNG processing plants and plentiful supplies of natural gas from the country's shale reservoirs.
Of LNG imported by European Union member countries and the United Kingdom last year, 26% came from the United States, 24% from Qatar and 20% from Russia, the EIA said.
The letter to Energy Secretary Jennifer Granholm, signed by Inhofe, Lankford and others, came in response after 10 Democratic senators wrote a letter to the President in early February asking him to curb LNG exports.
"We are concerned by recent attempts to restrict liquefied natural gas (LNG) exports from the United States to our European allies amid rising tensions caused by Russia," wrote the senators. "Specifically, the misguided request made by several of our colleagues in a February 2nd letter runs counter to ongoing efforts to assist our allies in pivoting their energy supply chains away from Russia."
"Increased production and export volumes of U.S. natural gas encourage developing nations to use a cleaner fuel source. Investing in domestic oil and gas production creates U.S. jobs. It lowers domestic and global emissions. It also increases U.S. energy security and makes us essential to the energy security of others," continued the senators.
The letter was initiated by North Dakota Sen. Kevin Cramer and Louisiana Sen. Bill Cassidy and was joined by others including Inhofe and Lankford.
They were joined by Senators John Thune (R-SD), John Cornyn (R-TX), John Barrasso (R-WY), Jim Risch (R-ID), Roger Marshall (R-KS), Thom Tillis (R-NC), Jerry Moran (R-KS), Shelly Moore Capito (R-WV), Marco Rubio (R-FL), Richard Burr (R-NC), Pat Toomey (R-PA), Lisa Murkowski (R-AK), Bill Hagerty (R-TN), Mike Rounds (R-SD), Dan Sullivan (R-AK), John Kennedy (R-LA), John Boozman (R-AR), Tommy Tuberville (R-AL), John Hoeven (R-ND), Ted Cruz (R-TX), Roger Wicker (R-MS), Cindy Hyde-Smith (R-MS), and Rick Scott (R-FL).