Oklahoma U.S. Sen. James Lankford says the U.S. should apply more sanctions, including those involving energy, against Russia following its firing on 3 Ukrainian gunboats and a tug and the seizure of their crews.
"We should be speaking out loud diplomatically, speaking at the UN, we should be talking about increased sanctions," said the Senator in an interview with OK Energy Today.  "If Russia feels like it can get away with it and the world is not going to focus on it, they'll keep pushing."
Lankford sits on the Senate Intelligence Committee and said Russia will keep moving until it feels resistance.
"So cutting off their oil, cutting off ways to cut off their economic activity, having additional sanctions against their military—there are ways we need to continue to engage with them," added the Senator.
Lankford said the US must have a strong private response and a strong diplomatic response to what the Russians did over the weekend.
Meanwhile,Russian President Vladimir Putin accused Ukraine's leader, Petro Poroshenko of trying to boost his ratings ahead of 2019 elections with the naval confrontation off Crimea.
"He had to do something to make the situation more tense," Mr Putin told an investment forum on Wednesday.
At least three of the Ukrainian sailors were wounded on Sunday as tensions spilled over near in the Kerch Strait, the passage between the Black Sea and the Sea of Azov off the coast of Crimea.
The peninsula was seized from Ukraine in 2014 and annexed by Russia shortly afterwards.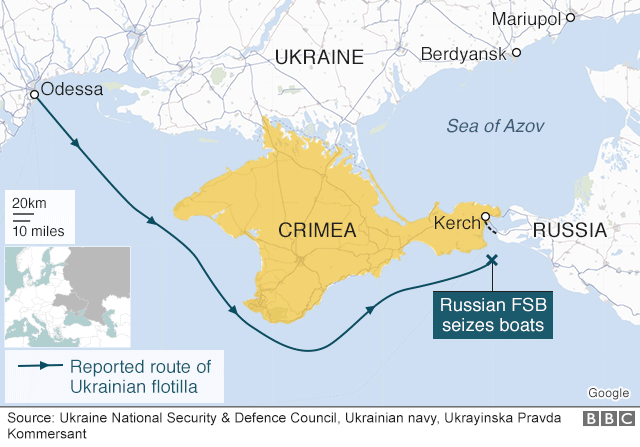 The three boats were sailing from Odessa to Mariupol, a major Ukrainian port on the Azov sea, when they were confronted by four FSB vessels.
Both countries agreed to share the sea in a 2003 treaty, but Russia's decision to open a bridge across the Kerch Strait this year has exacerbated tensions.