The weekly Baker Hughes rig report was just opposite of one released by Enverus. While Enverus reported a decline of 6 rigs nationally, Baker Hughes reported a growth of 6 rigs bringing the national count to 569.
The newest count from Baker Hughes showed 6 more oil rigs for a total of 467 while the number of gas rigs was unchanged at 102. This past week's rig count is 249 more than the 320 reported a year earlier. The rig growth in the past year included 226 oil rigs and 25 gas rigs.
Oklahoma's numbers were unchanged at 44 oil and gas rigs. Texas gained 2 for a total of 273 while New Mexico stayed at 83. North Dakota gained 4 rigs for a total of 27.
The Red Top Rig Report published by the Independent Oil & Gas Service in Wichita showed the Kansas rig count was unchanged at 41. Colorado continued with 12 rigs. Louisiana stayed at 49 rigs and Ohio's count remained at 10.
Pennsylvania gained one rig to reach 19 while West Virginia was unchanged at 19 and Wyoming stayed at 15 rigs.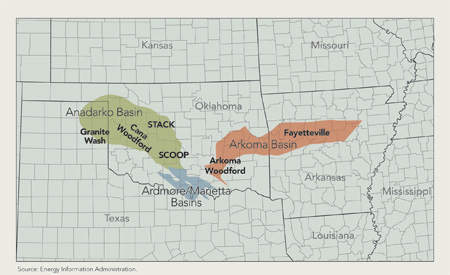 The Arkoma Woodford stayed at 3 rigs while the Cana Woodford was unchanged at 24.
The Permian Basin added 2 to reach 280 rigs. The Williston count grew by 3 to 27.
The D-J Basin stayed at 11 rigs while the Eagle Ford contiued with 42 and the Granite Wash was unchanged at 3 rigs.
The number of rigs in the Haynesville declined by one to 46 while the count in the Marcellus grew by one to 30. The Utica was unchanged at 10 rigs.