The Weatherford Stafford Airport had a recent unveiling of a new terminal building.
The $1.6 million project took 11 months to build and replaces the former terminal that was part of the Stafford Air and Space Museum and is nearly three times larger than the previous terminal.
U.S. Sen. Jim Inhofe was the keynote speaker and led a ceremonial ribbon cutting. Sen. Inhofe was joined at the ribbon cutting ceremony by General Tom Stafford, ODOT Secretary Tim Gatz, Oklahoma Aeronautics Commission Director Grayson Ardies and Weatherford Mayor Mike Brown.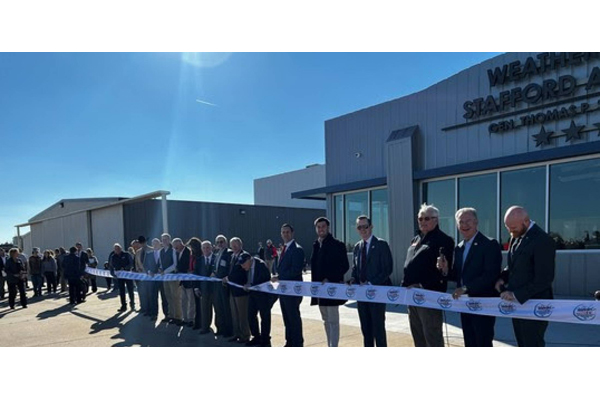 Sen. Inhofe was also honored with a Lifetime Achievement Award in recognition of his many miles flown across Oklahoma and work done for the aviation community, at the ceremony. 
"Already home to a first-class air and space museum, Weatherford is a growing community because of its forward-thinking policies and prime location in western Oklahoma. This new terminal will empower economic development, support jobs and grow workforce opportunities as it draws new businesses to the area for years to come," said the Senator.
Oklahoma Transportation Secretary Tim Gatz was also on hand.
"This airport is evidence of the advanced commitment by the City of Weatherford for improving aviation infrastructure. Since the community's founding, civic leaders and citizens have dedicated their resources and time to invest in pro-growth projects. This airport has become a symbol of the character and integrity that embodies the Oklahoma standard."