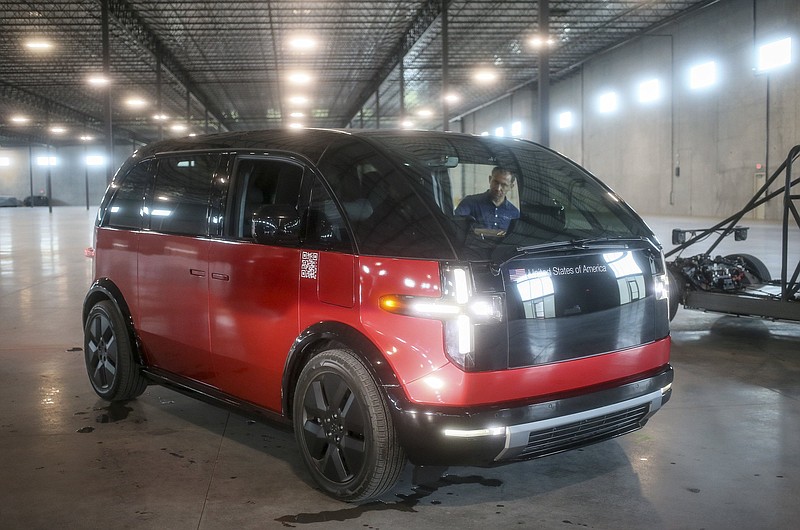 Weeks after securing a large contract with Walmart, financially challenged electric vehicle startup Canoo, the company with plans for a manufacturing plant in Pryor, Oklahoma, reported growing second quarter losses.
Canoo also is moving headquarters to Bentonville, Arkansas but its quarterly report revealed a loss of $164.4 million or 68 cents per share. It was an increased loss from the $112.6 million and 50 cents a share in the same quarter of 2021.
Canoo had no second-quarter total revenue but it reported net cash was used in operating activities and in investments for the first half of 2022.
Net cash used for operating activities totaled $237.6 million, up from $108.8 million for the first six months of last year. Net cash used in investing activities was $35 million, up from $28.7 million.
Investors had been warned in the first quarter that there was "substantial doubt about the company's ability to continue as a going concern." At the end of June, Canoo reported it had $33.8 million in unrestricted cash, down from the $104.9 million reported in the first quarter. The company also had accessible capital totaling $250 million.
In making the move to Oklahoma and Arkansas, the company managed to secure more than $400 million worth of incentives from the two states.
Actual production of Canoo vehicles isn't expected until the fourth quarter of the year. Canoo leadership contends the firm will produce 20,000 EV's in 2023 and double production by the following year.
In recent weeks, the company managed to secure significant contracts, raising optimistic about its viability. It won a contract with Walmart to produce 4,500 electric vehicles and deliveries are planned for next year.
Canoo also has a contract with NASA and leadership said the firm is focused on delivering vehicles to NASA for Artemis crew transportation by June 2023.
Canoo also won a small contract with the U.S. Army totaling $67,500 to supply an EV for analysis and demonstration.
Tony Aquila, CEO at Canoo stated recently the company had completed 90% of its crash testing and was entering the final phase of Federal Motor Vehicle Safety Standard certification.
"We have navigated a tough global economic backdrop in the first half, and will continue to take a disciplined, long-term, strategic and focused approach to deliver on our announced built in America vehicles, which are for and by America first with the intent of making EVs available to everyone," he said. "We have also introduced phase one of our just in time, milestone-based approach to accessing the capital markets, which aid us as we continue to build on access to non-dilutive capital."