While Oklahoma has baked under record-high temperatures over the past week to 10 days, the drought situation is growing in the state.
Recent rains in western Oklahoma brought only some slight relief to dry pastures and farm fields. Since the beginning of the heat wave in June, the drought has grown 69% according to Thursday's Oklahoma Mesonet report.
The U.S. Drought Monitor, as of July 21, shows a map of the state with 5 separate distinct regions of extreme drought, still less than from a February map. Back then, only the western reaches of the Panhandle were considered to be under exception drought, the worst classification issued by the U.S. Drought Monitor.
But it's growing.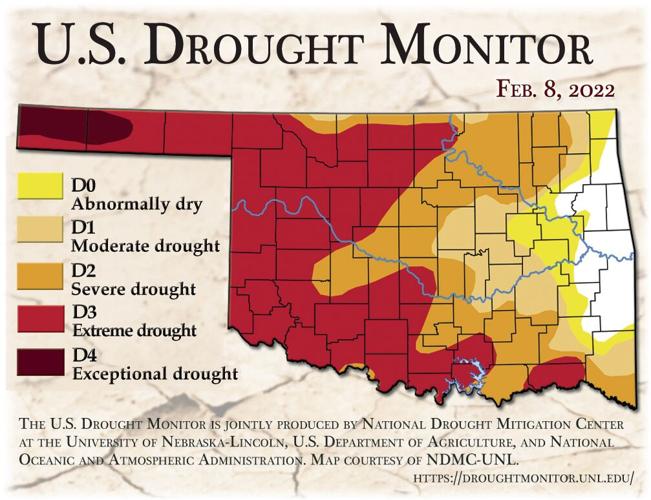 "The combination of heat and dry weather, prime ingredients for flash drought in the warm season, with added help from an abundance of the summer sun, has brought us back to levels of drought not seen in the state in over four years," wrote Oklahoma Climatologist Gary McManus in his Thursday weather update.
"You have to go back to Feb. 20, 2018, to find the last U.S. Drought Monitor map that had virtually the entire state in at least D1 (Moderate) drought."
He went on to explain the current flash drought is fueled by the lack of rain and the abundance of heat that started nearly 40 days ago.
"We are still showing that period to be the driest such span in the last 100 years, a statistic that continues to hold firm with each additional day," stated McManus.