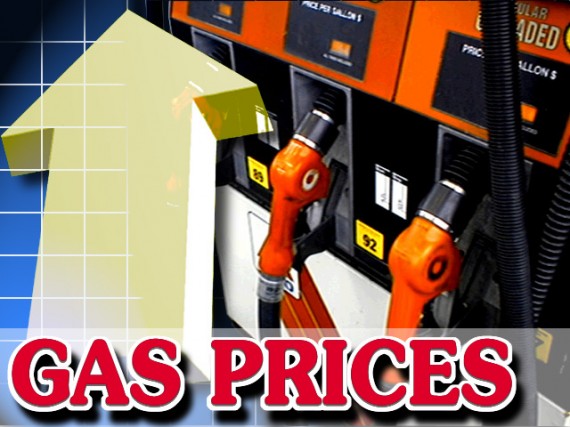 You don't have to drive to California to find $5 gasoline. Drivers can find it right in Oklahoma.
The latest gasoline price report from AAA showed the average price for gasoline in Harmon County in the southwest part of the state is $4.99 per gallon. Actually, the price is $4.999 a gallon, about a close as you can get to paying 5-bucks a gallon.
Nationally, the average as of Monday was $4.86 a gallon, so several Oklahoma counties had averages well above the national average. Harmon was highest at $4.99 and adjacent Greer County was $4.88 while Ellis in the northwest has an average of $4.85 per gallon and Coal County is at $4.79.
The following are the remaining counties in Oklahoma with averages well above $4: Hughes $4.60; Pontotoc $4.61; Murray $4.61; Marshall $4.69; Love $4.61; Jefferson $4.60; McClain $4.71; Lincoln $4.59; Logan $4.69; Kingfisher $4.60; Dewey $4.60; and Woods at $4.67 per gallon.
The average price for gasoline in Tulsa on Monday was $4.33, up from $4.09 just a week ago. Tulsa's average price a month ago was $3.82 and one year ago, it was $2.79.
Oklahoma City motorists saw gasoline prices jump 28 cents in one week, reaching an average $4.44 this week. It compares to $3.89 a month ago and $2.70 a year ago.
Lawton prices average $4.29, an amount that is 33 cents higher than last week. A month ago, Lawton's average price was $3.69 and a year ago, it was $2.74.
The cost of a barrel of oil is nearing $120, nearly double from last August, as increased oil demand outpaces the tight global supply. Meanwhile, domestic gasoline demand rose last week in the wake of a robust Memorial Day weekend of travel. As a result, the national average for a gallon of gas surged 25 cents in one week to hit $4.86.
"People are still fueling up, despite these high prices," said Andrew Gross, AAA spokesperson. "At some point, drivers may change their daily driving habits or lifestyle due to these high prices, but we are not there yet."
The nation's top 10 largest weekly increases: Michigan (+45 cents), Illinois (+41 cents), Indiana (+41 cents), Wisconsin (+39 cents), Ohio (+38 cents), Nebraska (+37 cents), Kentucky (+36 cents), Colorado (+35 cents), Minnesota (+34 cents) and Texas (+32 cents).
The nation's top 10 most expensive markets: California ($6.34), Nevada ($5.49), Hawaii ($5.47), Oregon ($5.41), Washington ($5.40), Illinois ($5.40), Alaska ($5.37), Washington, D.C. ($5.06) and Michigan ($5.05).