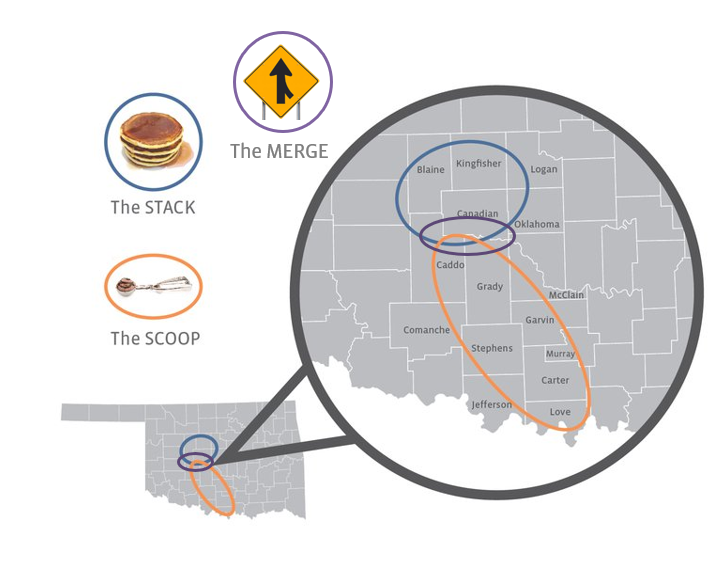 Oklahoma's Canadian and Kingfisher Counties continue to see more completed wells along with new drilling planned for the region that is part of the STACK.
Camino Natural Resources LLC reported the summertime completion of the Red River 1208 24-13-2wxh at 24 12N 8W , a site about one mile south of El Reno. The well, drilled at a depth of 19,266 feet had production of 335 barrels of oil a day and 4,859 Mcf of natural gas.
The Denver-based company had an April spud date with completion made July 25, 2021.
Cimarex Energy Co. filed completion reports on the Carel 2h-2524x and the Carel 4h-2524x wells at 25 11N 8W, a site 3 miles west of Union City in Canadian County. One well produced 872 barrels of oil a day and 5,295 Mcf of natural gas while the second produced 527 barrels of oil a day and 2,901 Mcf of natural gas. Combined production was 1,399 barrels of oil a day from the single pad according to the completion reports.
More drilling permits were issued this week including another Canadian County well, the WALTHER #3H-1-12, to be drilled at 01 10N 6W by Citizen Energy III LLC.
Ovintiv USA Inc. plans two more Kingfisher County wells, the KRETCHMAR 1507 #2H-2X and the KRETCHMAR 1507 #3H-2XLW, both to be located on a single pad at 35 16N 7W, a site just south of the city of Kingfisher. Ovintiv has brought in several large producing oil wells in the same area over the past 2 years.
Mewbourne Oil plans a western Oklahoma well in Ellis County. It received a permit for the GROSS 27/22 ND #2H, located at 27 18N 24W which is a site south of Arnett.
A Beaver County well, the RALPH BARBY #2-19, is to be recompleted  by Latigo Oil and Gas Inc. at 19 4N 27E.
Prairie Gas Company of Oklahoma based in Tulsa has two permits to drill on a single pad at 16 14N 5E in Lincoln County. The HOGAN #1-16 HP and the NICKLAUS #1-17 HP will be drilled at a site southeast of the city of Chandler.