A 26% increase in net income to $392 million and 88 cents a share dividend for ONEOK Inc in the third quarter prompted the company to increase its guidance for the remainder of the year.
ONEOK's big jump in earnings compared to the third quarter 2020.
The company reported a 16% increase in adjusted EBITDA to $865.2 million along with large increases in Rocky Mountain region NGL raw feed and natural gas volumes.
ONEOK increased 2021 net income guidance to a range of $1.43 billion to $1.55 billion, compared with the previously announced range of $1.20 billion to $1.50 billion. Adjusted EBITDA guidance increased to a range of $3.325 billion to $3.425 billion, compared with ONEOK's previously announced range of $3.05 billion to $3.35 billion.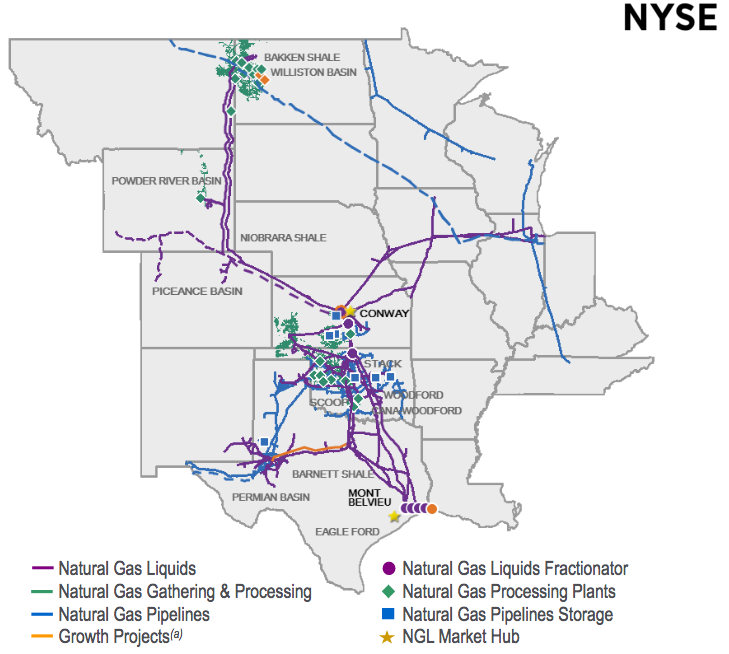 The increase in financial guidance reflects continued strength in Rocky Mountain region volumes and higher commodity prices in the natural gas gathering and processing segment. NGL volume growth in the Rocky Mountain region and Permian Basin, and higher natural gas sales and firm transportation revenue also contributed to increased 2021 expectations.
"ONEOK's strong third quarter results were driven by NGL and natural gas volume growth on our system, contributing higher fee-based earnings," said Pierce H. Norton II, ONEOK president and chief executive officer.
"Increasing producer activity driven by improving market demand resulted in record NGL raw feed throughput volumes on our system. These factors, combined with year-to-date results, contributed to the increase in our 2021 financial guidance, giving us positive momentum going into next year.
ONEOK announced several highlights for the quarter.
Completing the 200 million cubic feet per day (MMcf/d) Bear Creek natural gas processing plant expansion and related infrastructure in the Williston Basin.
In September 2021, announcing a 30% absolute greenhouse gas emissions reduction target, or 2.2 million metric tons, of combined Scope 1 and Scope 2 emissions by 2030, compared with 2019 base-year levels.
In October 2021, declaring a quarterly dividend of 93.5 cents per share, or $3.74 per share on an annualized basis.
Redeeming in November 2021 the remaining $536.1 million of 4.25% senior notes due February 2022.
As of Sept. 30, 2021:

4.0 times annualized run-rate net debt-to-EBITDA ratio.
No borrowings outstanding under ONEOK's $2.5 billion credit agreement.
$224.3 million of cash and cash equivalents
Click here for entire ONEOK release.