Devon Energy's third quarter earnings were so strong, the company said it intends to offer a $1 billion share buyback as a result of the markedly improved quarter.
The company's net earnings were $838 million or $1.24 per diluted share for the quarter and adjusted core earnings were $733 million or $1.08 per share.
Devon's operating cash flow totaled $1.6 billion in the third quarter which was 46% stronger from the second quarter 2021. With capital reinvestment rates limited to 30 percent of cash flow, the company generated $1.1 billion of free cash flow in the quarter. This represents an 8-fold increase in free cash flow compared to the fourth quarter of 2020 and is the highest quarterly amount in Devon's 50-year history.
"The power of Devon's asset portfolio and disciplined cash-return strategy was evidenced by another quarter of operational and
financial outperformance," said Rick Muncrief, president and CEO.
"With this free cash flow, we are delivering on our commitment to accelerate the return of cash to shareholders with a 71 percent
increase in the dividend and we have continued to strengthen our investment-grade balance sheet."
As for the remainder of 2021 and what the company plans to do for 2022, Muncrief said the priority will continue to be free cash flow over volume growth.
"With our operations successfully scaled to generate strong cash flow growth, we have no intention of pursuing production growth until it is clear that market fundamentals have sustainably recovered, and worldwide spare oil capacity is effectively absorbed."
Devon's total production averaged 608,000 oil-equivalent barrels (Boe) per day in the third quarter, exceeding guidance by 5 percent.
This outperformance was driven by strong well productivity in the Delaware Basin and better-than-expected base production
performance across the portfolio.
The company also continued to strengthen its investment-grade financial position, with cash balances increasing by $782 million in the quarter to a total of $2.3 billion. The company intends to further improve its financial strength by retiring and calling low-premium debt of approximately $1.0 billion in 2022 and 2023.
As for its field operations, Devon reported it exited the quarter with 16 operated drilling rigs and five completion crews and 80% of the activity was in the Delaware Basin. Its production expense totaled $9.91 per unit which was a 1% decrease from the previous quarter.
Production averaged 409,000 Boe per day, with oil reaching 52 percent of the product mix. This production result represents a 39 percent increase year over year, on a pro forma basis. The high-margin growth in the quarter was driven by 52 new wells that commenced first production across Devon's 400,000 net acres in New Mexico and Texas. The completed well costs for this Wolfcamp-oriented development activity continued to be extremely low at $554 per lateral foot.
The company also reported on its drilling activities in other plays including the Anadarko Basin where its production averaged 75,000 Boe a day with gas and NGLs representing more than 80% of the total volume. Devon had two drilling rigs in the basin during the quarter supported by a $100 million drilling carry with Dow.
Devon said it is on track to drill up to 30 wells with Dow yet this year.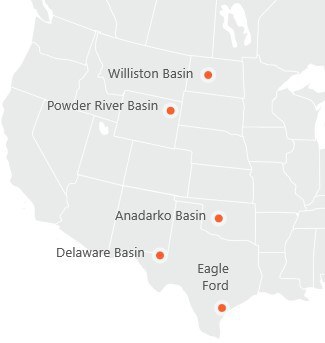 In the Williston Basin of North Dakota, Devon had production average 58,000 Boe a day with oil accounting for 67%. For the full-year 2021, the company plans to bring online up to 20 new wells and generate more than $700 million of free cash flow from this high-margin asset.
Devon's Eagle Ford production grew by 15% in the third quarter with an average of 42,000 Boe a day. The growth was driven by 19 new development wells brought online in the quarter. Completed well costs for this activity were approximately $6 million per well and the average 30-day rates from this high-return program were 2,300 Boe per day. Devon and its partner plan to sustain production by running a two-rig drilling program for the remainder of the year.
The Powder River Basin had average production of 20,000 Boe a day for Devon and 70% was oil. During the quarter, Devon brought online two new wells in Converse County that delivered average 30-day rates of 1,300 Boe per day (93 percent oil). The company has 300,000 net acres in the oil fairway of this emerging resource opportunity that is prospective for multiple benches.