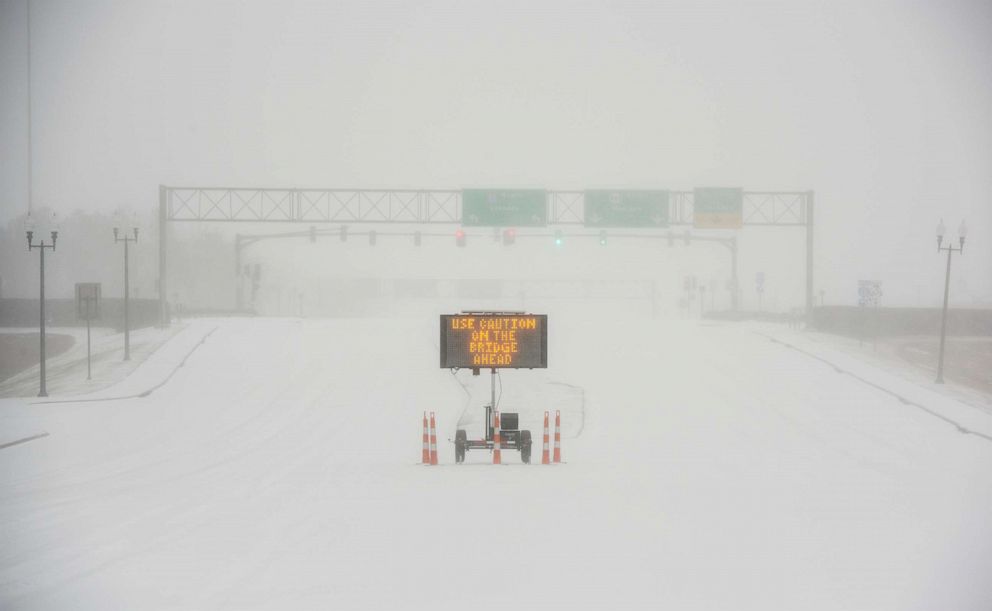 As Public Service Company prepares to win approval of a $732.5 million rate hike stemming from the February winter storm, details have emerged how quickly prices and the natural gas supply challenges stormed out of hand for the Oklahoma utility over a matter of a few days. It also offers insights into the wrong weather forecast from a corporate meteorologist.
"The natural gas prices experienced during this event were unprecedented," testified Clinton M. Stutler, the Natural Gas and Fuel Oil Manager for American Electric Power Service Corporation, a subsidiary of PSO's parent company American Electric Power Company, Inc.
"Prior record published settlement prices were eclipsed by more than one-thousand percent. In no way could this price volatility be predicted," he stated in the supporting testimony filed Aug. 16 with the Oklahoma Corporation Commission, testimony meant to defend the utility's actions during that tumultuous period.
The same storm that left at least 210 people dead in Texas and caused massive power failures wasn't as deadly in Oklahoma. But rolling blackouts were ordered by the controlling Southwest Power Pool of which Oklahoma is a member. Utilities were hit with shortages of natural gas as a result of the frigid weather that in some cases froze facilities, leaving them temporarily incapable of transporting natural gas to power plants.
In defending PSO's request to fund its storm costs, Stutler explained how PSO has six natural gas power plants including the Tulsa Power Station, Northeastern Power Stations (Units 1 & 2), the Riverside Power Station, Weleetka Power Station, Southwestern Power Station and Comanche Power Station, all of which are connected to natural gas pipeline systems.
Stutler testified how PSO relies on both firm and interruptible transportation agreements as well as daily spot market natural gas purchases. In preparation for winter months and determining how much natural gas it might need, the utility makes estimates and participates in Bidweek for purchases.
"When evaluating firm capacity requirements for the month of February, PSO considered daily average consumption in February 2018 and February 2019, as well as peak February daily average consumption dating back to 2015," he said.
The PSO natural gas-fired units consumed an average of 72,000 Metric Million Btu a day during the month of February in both 2018 and 2019 while the peak consumption was 104,000 MMBtu a day from February 2015. Based on that history, PSO pursued the strategy of securing 115,000 MMBtu during February 2021.
Analyses of anticipated supplies and needs are made on a daily basis and if necessary, adjustments are made.
"The month of January 2021 was mild," said Stutler as he explained in his testimony, adding that the price daily spot market natural gas ranged between $2.24 per MMBtu and $2.70 per MMBtu.
PSO received a weather forecast on Jan. 21 from an AEP corporate meteorologist for February 2021 "which stated that warmer than normal temperatures remained in the outlook with moderate to high confidence."
He said the same outlook was also forecast for March 2021 with "slightly lower confidence."
"Given the fact that January 2021 was mild, and more of the same conditions were expected for the balance of the winter, PSO did not participate in Bidweek which lasted from January 25, 2021 through January 29, 2021," he stated.
"Warmer than normal expected temperatures in February 2021 and March 2021 would typically cause the forward price of natural gas to weaken, thus there were no reasons to expect instability in the market."
Thus, the decision was made to buy "nominal qualities" of natural gas in the spot market. Stutler said the procurement strategy was consistent with PSO's Fuel Supply Portfolio and Risk Management Plans.
Then Mother Nature came into play and in a big way. A cold weather alert was issued Feb. 4 to make generators award of the approaching cold weather, not the warm weather predicted by the AEP meteorologist.
Stutler testified that based on conversations PSO had with natural gas suppliers, they knew there would be strong demand on their systems.
"With Bidweek for February baseload supply a few weeks in the past, there would be little opportunity to secure supply at a fixed price for the balance of the month," he offered, adding that producers and marketers had no idea where the market might go.
Through Feb. 10, natural gas pricing in the PSO service territory remained what Stutler called "relatively low," under $4 per MMBtu. But as the weather forecast and demand started to become a reality, he said natural gas prices began to increase.
On Feb. 11, published index prices settled at $6.31 per MMBtu at Panhandle Eastern Pipeline Company and $6.105 per MMBtu at Enable Gas, East. A day later on Feb. 12, the PEPL more than doubled to $14.545 while the Enable Gas East published index price increased by more than five times the previous day at $34.385 per MMBtu.
Then from Feb. 13 to Feb. 16, the PEPL index price settled at a whopping $224.56 per MMBtu and the Enable Gas East index shot up to $375.81. To give one an idea of the enormity of the situation faced by PSO and other utilities, the three highest settled prices for Panhandle Easter Pipeline index was $32.86 on Feb. 6 2014, $14.47 on March 4, 2014 and $13.60 per MMBtu on Dec. 14, 2005.
At EGT, the three highest settled prices were $22.68 per MMBtu on Feb. 6, 2014, $13.59 per MMBtu on Dec. 14, 2005 and $13.26 on Dec. 9, 2005.
"This reference to previous high settlement prices amplifies the significance of settled prices during the Winter Weather Event," added Stutler.
Not until Feb. 20 did prices drop to below $5 per MMBtu.
What does PSO intend to do in the future to prepare for such catastrophic winter weather events?  Stutler made it clear in his testimony that the utility will not attempt to acquire large amounts of guaranteed natural gas supplies, just in case it is caught unaware of another such major storm.
"PSO will continue to review its firm natural gas transportation strategy," he stated, "but absent catastrophic events such as this Winter Weather Event, we do not feel it is in the best interest of PSO's customers to secure additional capacity."
He defended the decision by stating that current firm natural gas transportation capacity costs are $14.3 million a year. Such "firm" natural gas transportation entitlements account for about 20% of PSO's fleet at full load.
"If PSO wanted to acquire firm natural gas transportation capacity for the entire fleet, the cost of this contract could increase by $60 million per year," he said, adding he felt that SO's natural gas expenses during the storm were reasonable based on market conditions.