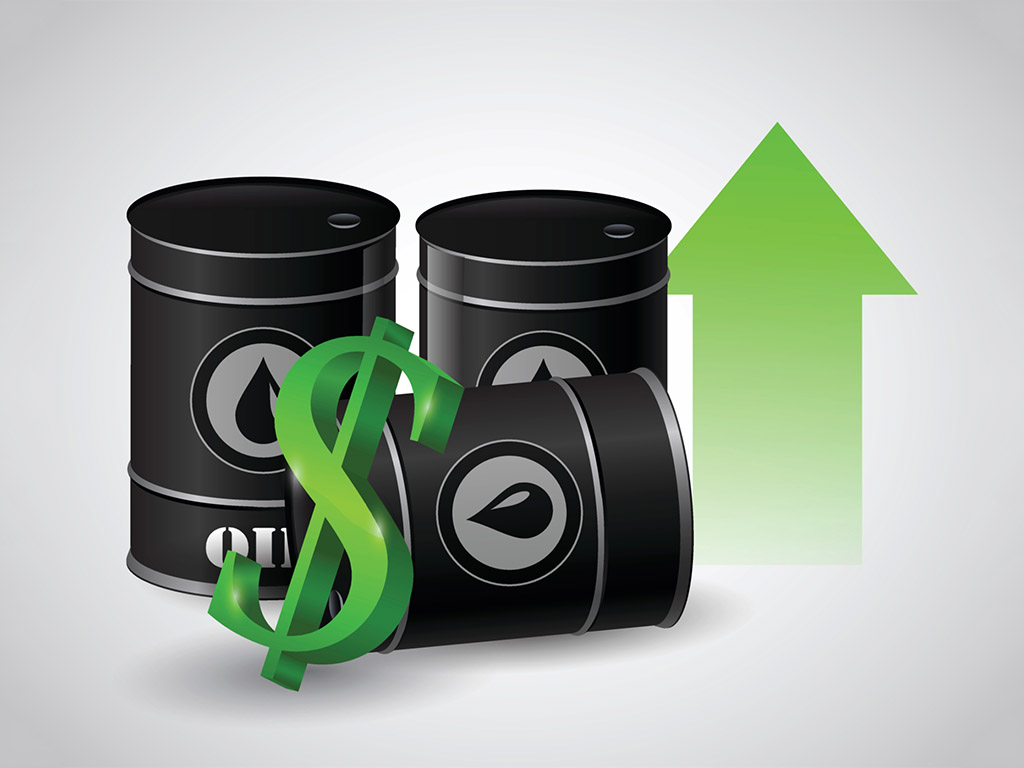 It took a week before crude oil prices finally managed a rebound on Monday, rising more than 5% thanks to a weaker dollar.
In the states, West Texas Intermediate crude for October delivery jumped $3.50 or 5.6% to finish the day at $65.64 a barrel.
Global benchmark Brent crude shot up $3.57 or 5.5% and ended the trading session at $68.75 on ICE Futures Europe. It earlier had reached its lowest level since May 21 at $64.60 during the session.
Alliance Resource Partners, L.P.
NASDAQ: ARLP
8.02 USD +0.19 (2.43%)
Blueknight Energy Partners LP Common Stock
NASDAQ: BKEP
3.14 USD −0.045 (1.41%)
Chesapeake Energy Ord Shs
NASDAQ: CHK
52.25 USD −0.076 (0.15%)
Continental Resources, Inc.
NYSE: CLR
36.22 USD +2.40 (7.10%)
Cypress Environmental Partners LP
NYSE: CELP
1.35 USD +0.031 (2.33%)
Enable Midstream Partners LP
NYSE: ENBL
7.83 USD +0.25 (3.30%)
Magellan Midstream Partners, L.P.
NYSE: MMP
47.26 USD −0.035 (0.074%)
Mammoth Energy Services Inc
NASDAQ: TUSK
3.41 USD +0.11 (3.33%)
The Texas Energy Report showed other energy stocks also had a strong day on Monday with Occidental Petroleum gaining nearly 7% and Diamondback Energy up 6%.
Cabot Oil & Gas (COG) up 0.23 at 14.65 – change 1.59%
Chevron (CVX) up 2.43 at 96.73 – change 2.57%
ConocoPhillips (COP) up 2.02 at 54.79 – change 3.82%
Diamondback Energy (FANG) up 4.01 at 72.20 – change 5.89%
Energy Transfer LP (ET) up 0.19 at 9.21 – change 2.10%
Enterprise Products Partners (EPD) up 0.34 at 21.92 – change 1.57%
EOG Resources (EOG) up 3.17 at 67.64 – change 4.91%
ExxonMobil (XOM) up 2.17 at 54.91 – change 4.11%
Kinder Morgan (KMI) up 0.34 at 16.28 – change 2.13%
Marathon Oil Corp. (MRO) up 0.57 at 11.30 – change 5.41%
National Oilwell Varco (NOV) up 0.39 at 12.58 – change 3.19%
Occidental Petroleum (OXY) up 1.52 at 23.47 – change 6.92%
Phillips 66 (PSX) up 2.85 at 68.80 – change 4.32%
Pioneer Natural Resources (PXD) up 4.23 at 145.55 – change 2.99%
Valero (VLO) up 2.91 at 63.11 – change 4.83%
CLOSING TOP UTILITY STOCKS
American Electric Power (AEP) down 0.96 at 90.12 – change 1.06%
CenterPoint (CNP) down 0.16 at 26.18 – change 0.61%
Entergy (ETR) down 0.60 at 114.00 – change 0.53%