By Congressman Markwayne Mullin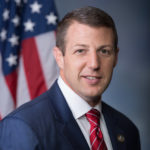 Education is the most valuable tool that we can give to the next generation and providing resources for our educators and our students should be a top priority in our communities. I recently toured several schools in the Second District to see the tools and resources our students have in the classrooms. It's inspiring to see the innovative and creative ways teachers have adapted to best serve their students, but I am concerned about the problems that still need to be addressed.
As a father of six kids who all attend a rural public school in Oklahoma, I see firsthand the challenges my kids' school faces, but every school throughout the Second District faces unique difficulties. One thing that urban schools take for granted but is an obstacle for rural schools is access to high-speed internet.
Oklahoma's Second District is the only congressional district in the country where broadband is available to less than half the population. Our rural areas and schools are too often left without the services they need to deliver educational opportunities essential to our children's future success.
This problem follows students out of school, as their families, neighbors, towns, farms, and local businesses need better wireless networks to be competitive in the global market. Earlier this year, I introduced H.R. 2929, the Rural Broadband Network Advancement (RBNA) Act, which would invest in expanding broadband access in rural areas. This legislation will ensure our rural communities, including our schools, are not left behind in the internet economy.
The most important duty we have in our communities is to educate the next generation. We must ensure our children have access to the best facilities, tools, teachers, and resources to set them up for success. Providing our rural communities with access to broadband wireless networks is one of the most important things we can do to improve our children's education.