By Congressman Markwayne Mullin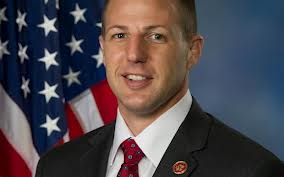 Clunk.  Clunk.  Clunk. You're driving down Highway 69 on your way to work and the roads are full of potholes the size of our neighboring state of Texas and uneven pavement that makes you feel like you're on a roller coaster.  These roads that thousands of Oklahomans travel daily to get to work are proof of our state's crumbling infrastructure.
In their 2017 infrastructure report card, the American Society of Civil Engineers gave Oklahoma a C- grade overall.  Our dams, roads, bridges, and levees all earned a D+ or lower.  Oklahoma incurs $718 per motorist per year in costs from driving on roads in need of repair.  Fifteen percent of our bridges are structurally deficient.  The McClellan–Kerr Arkansas River Navigation System (MKARNS), which transports 11.5 million tons of cargo worth over $4 billion each year, has a 50 percent chance of completely failing in the next 5 years.  Over $150 million in repairs to the water channel is necessary for the system to remain operational.  It's obvious that Oklahoma's infrastructure is in dire need of repair.
Thankfully, repairing our nation's infrastructure is one of President Trump's top priorities.  Previous administrations focused investments on nation building and providing foreign aid.  I support President Trump's call to reprioritize and rebuild our crumbling roads and bridges and expand broadband deployment here at home.
In addition to stimulating infrastructure investments from state, local, tribal and private stakeholders, President Trump's plans particularly benefit rural Oklahomans.  His plan directs $50 billion in federal funds to rural America.  A portion of this funding would go to providing access to broadband internet in rural areas such as the Second District, where less than half of the residents have access to broadband internet.  It is time that we bring every corner of the country up to full speed.
President Trump is continuing his promise to put America first in his infrastructure plan.  His proposal is to build a safe, fast, reliable and modern infrastructure that will meet the needs of Americans and the goods we produce and transport across state lines.  I look forward to working with my colleagues in Congress to deliver infrastructure reforms that bring our country's roads, bridges, dams, locks, airports, and more into the 21st century.